PUBG devs earned more than a billion dollars last year
2018 was the biggest year for digital games and interactive entertainment. Ever. The new cross-platform digital games landscape and the continued growth of new segments like esports, gaming video content, and virtual reality have led to a dynamic market that shows no signs of slowing. But as with all growing markets, the need for data and insights remains vital for success. Learn about the top games, the major advancements, and where these platforms are headed in this new year in review report. Big key takeaways include:
The games and interactive media industry grew 13% in 2018 as Fortnite disrupted the status quo. The red-hot battle royale title generated the most annual revenue of any game in history and popularized gaming video content (GVC) among mainstream audiences.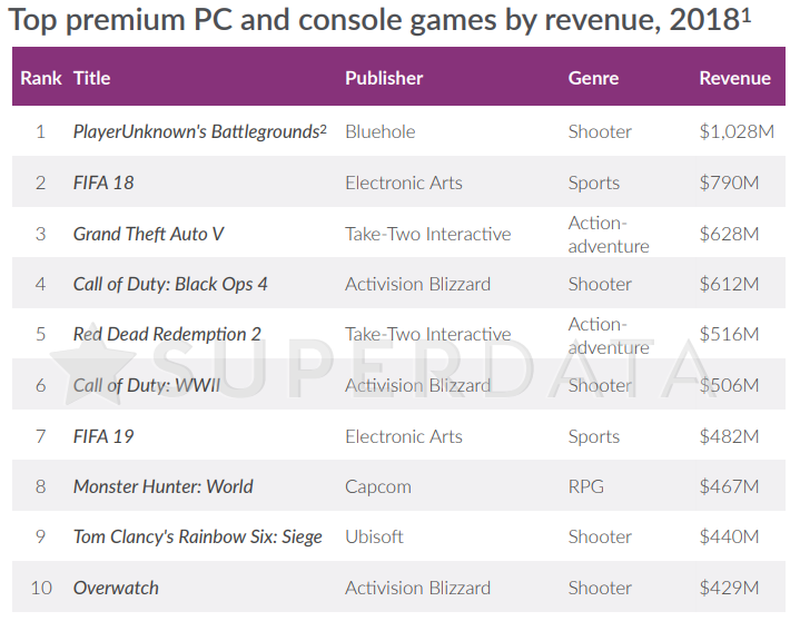 Free-to-play titles amassed 80% of digital games revenue in 2018 but premium games still performed well in Western markets. Asian mobile games helped the region earn 62% of global free-to-play revenue, while North America and Europe generated 80% of premium games revenue.
Red Dead Redemption 2 earned $516M in Q4, helping to grow premium games revenue 10% year-over-year. The title is expected to continue adding to the market in 2019 through further monetization of its multiplayer mode, Red Dead Online.
GVC earned $5.2B as viewership hit 850M unique viewers. Popular streamers like Ninja introduced GVC to new audiences as Fortnite impacted how games are watched as much as how they are played.
XR revenue rose from $4.4B to $6.6B as new headsets offset declining earnings from existing platforms. Oculus Go and other standalone devices appealed to everyday consumers even as shipments of PC and mobile headsets like the Oculus Rift and Samsung Gear VR contracted.