Closing the Gap Between PUBG Esports and Ranked Play
Bringing Esports to Everyone
Since introducing official PUBG Esports events back with PGI 2018, we've prioritized competitive gameplay by tweaking settings and carefully limiting select elements of the core PUBG: Battlegrounds experience. At first, these adjustments were necessary to ensure the most balanced and fair matchups possible, but over the years, introductions to the game such as Ranked Mode now offer a more esports-like experience for all players. By incorporating the Ranked settings into our tournament settings, we are aiming to break down the barrier to entry into competitive play, giving top Ranked Mode players a platform to chase their ambitions of competing with the best, and allowing all fans to experience the very same game as their favorite pro players.
For players who already have experience competing under the current Esports settings, we understand that this is a big change and will bring with it certain challenges. To make sure everyone has plenty of time to adapt, we will not be implementing this change on the official PUBG Esports tournament calendar until PGS 1 has concluded.
A New but Familiar Experience
Basically, now Esports mode no longer have separate settings. All settings will be identical to the Ranked mode and future updates to the Ranked will be applied to the official PUBG Esports tournaments.
We won't try to cover every settings change in this blog, but there are a few key similarities and differences we're already excited to talk about:
Maps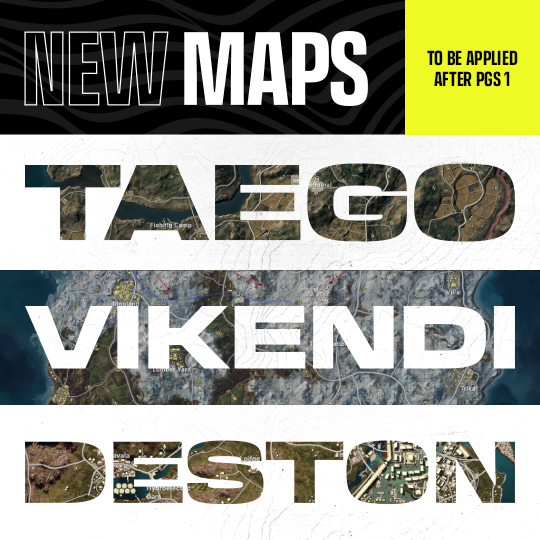 Perhaps the biggest change we'll see once Ranked and Esports align will be the introduction of new maps. We will be introducing Taego, Vikendi and Deston to the competitive scene gradually throughout the year. These new maps will also include map-specific equipment such as the Blue Zone Grenade on Taego.
Item spawn table and spawn rates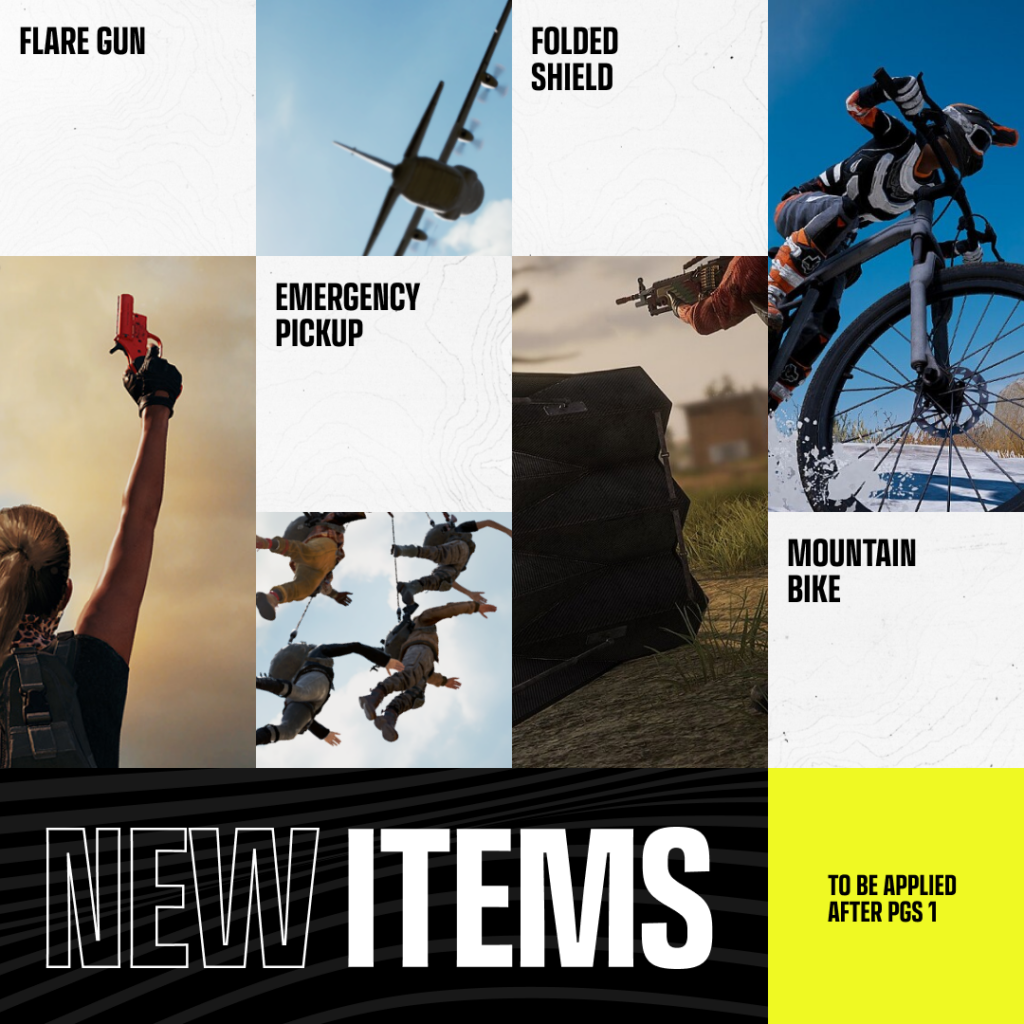 Any weapons and vehicles that you can find in Ranked, you'll be able to find in Esports. For example, esports players will now have access to the Flare Gun, Motor Glider, M79, and more. We can't wait to see how highly skilled players take advantage of these new options!
Blue Zone
Both Ranked and Esports use the same overall Blue Zone settings, so new players can already feel the heightened pressure of those competitive circles while esports players can maintain their well-honed tactics and map strategies.
Some Settings Still Apply
While the updated Esports gameplay experience will now align with Ranked Mode, tournament matches will still require Squads (4 Players) and will be played with First-Person Perspective (FPP).
Get Prepared
If you are new to Esports, now is the perfect time to jump into Ranked Mode and see how you face up to the best players in the game. Whether you aspire to turn pro or are just curious to try the same gameplay as the professionals, Ranked Mode now offers you the authentic esports experience. And when you are not dropping into the battlegrounds yourself, be sure to tune into our upcoming Regional and Global PUBG Esports events to see the world's top players in action. Study their drop spots and learn from their loadouts to equip yourself with the knowledge to take your game to the next level.
If you're already familiar with the pro scene and tournament-level play, your practice sessions in Ranked Mode will now transfer directly to upcoming matches. As mentioned above, we will be changing the current Esports settings to Ranked Mode settings in all tournaments taking place after PGS 1.
We'll keep you posted on any further esports settings updates via pubgesports.com and our PUBG Esports Twitter account. And if you're not already, be sure to follow PUBG Esports on Instagram and TikTok for tons of more content.