25.1 Patch Notes
25.1 Highlights
Live Maintenance Schedule
※ The times shown below are subject to change.
PC: August 9, 12 AM - 8:30 AM (UTC)
Console: August 17, 1 AM - 9 AM (UTC)
Map Service
※ Please note that PC players can anticipate map changes every Wednesday at 2 AM UTC, while Console players can expect the same every Thursday at 7 AM UTC.
※ In Random Map regions, each map will have an equal probability of being selected, with a probability of 20%.
(PC) Test Server

Normal Match: Miramar


AS region: Squad - TPP
NA region: Squad - FPP

Live Server - Normal Match

Week 1: Erangel / Miramar / Vikendi / Sanhok / Karakin

PC: August 9 ~ August 16
Console: August 17 ~ August 24

Week 2: Erangel / Taego / Deston / Sanhok / Paramo

PC: August 16 ~ August 23
Console: August 24 ~ August 31

Week 3: Erangel / Miramar / Vikendi / Sanhok / Karakin

PC: August 23 ~ August 30
Console: August 31 ~ September 7

Week 4: Erangel / Taego / Deston / Sanhok / Paramo

PC: August 30 ~ September 6
Console: September 7 ~ September 14

Live Server - Ranked

Ranked: Erangel (30%) / Miramar (30%) / Taego (30%) / Deston (10%)
The map service for Ranked is updated on a season-by-season basis.
※ Please note that the features and updates described below are subject to change or removal due to issues such as bugs, in-game problems, and community feedback. The images used are intended as visual references only; the actual game may look different as the builds are continually developed and refined before release.
New Weapon: Dragunov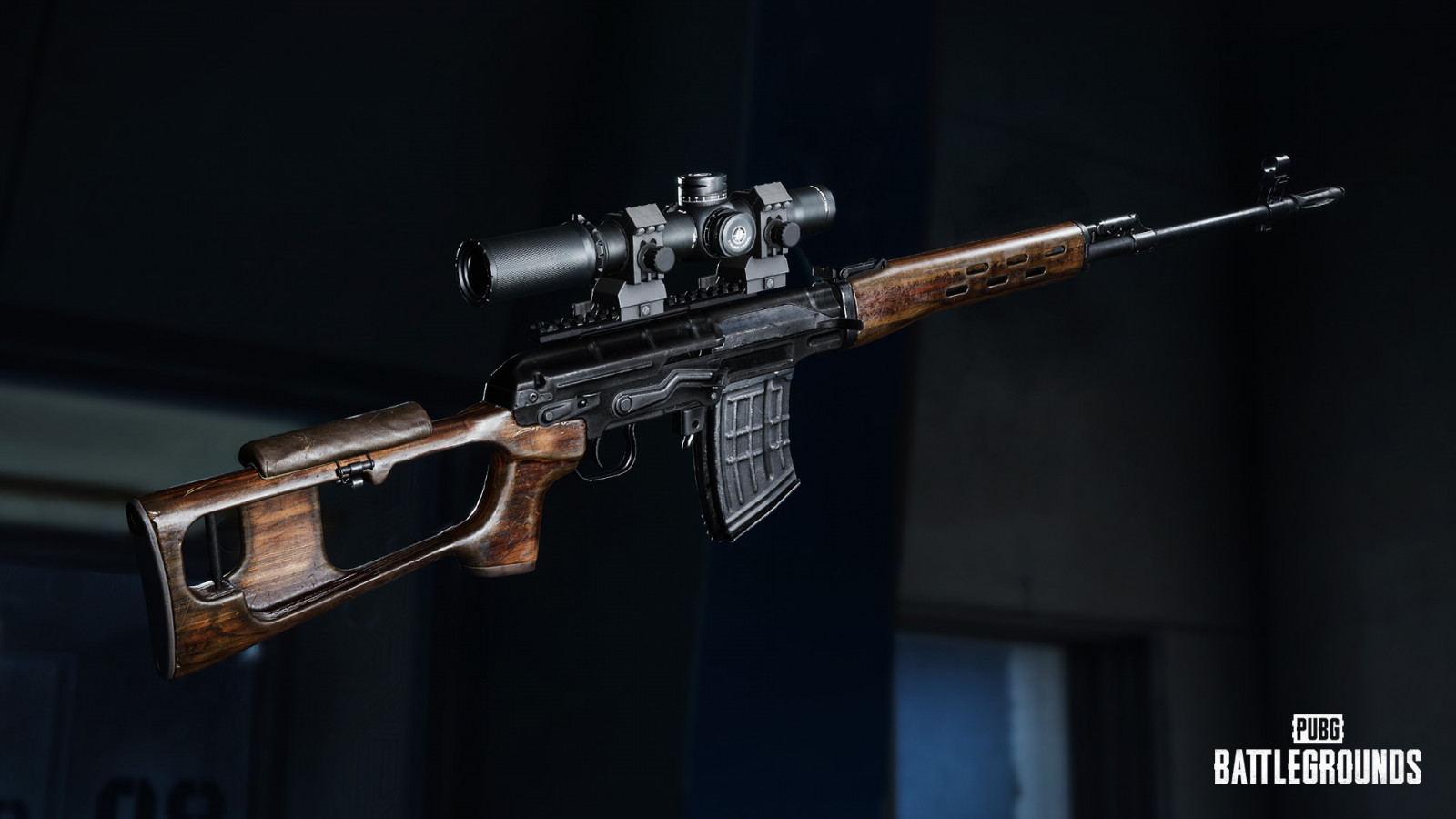 Introducing the world's first designated marksman rifle, the Dragunov, to PUBG: BATTLEGROUNDS, complete with its potent, lethal firepower. This new addition to the arsenal utilizes 7.62mm ammunition and is recognized for its potential to inflict high damage akin to a sniper rifle. With a bit of luck, you can take down an enemy in a single shot, adding a thrilling element of unpredictability to both Solo and Squad encounters. However, the Dragunov is not without its challenges: its hefty recoil and slower firing rate require a steady hand and quick reflexes. If you're a player confident in your ability to master these traits, we highly recommend stepping up to the challenge!
Weapon type: Designated Marksman Rifles (DMR)
Fire Modes: Single
Can attach up to the 15x Scope.
Ammo: 7.62mm
Damage per shot: 58 (Basic) ~ 73 (Max)

At a given probability, the maximum amount of damage will be inflicted.

Effective range: 500m
Muzzle velocity: 830m/s
Rate of fire: 150 RPM
Muzzle attachment: Every AR, DMR muzzle attachment.
Magazine attachment: Every AR, DMR magazine attachment.
Stock attachment: Cheekpad
World spawns.
Available on every map and mode.

Not available in Bluebomb Rush mode.
Dev's Comment:
Greetings, players! We're excited to officially unveil the Dragunov, as recently previewed in our last Dev Letter. In general terms, the Dragunov boasts performance akin to other designated marksman rifles but has been uniquely engineered to deliver potentially high damage at a given probability, but also presenting risks in terms of recoil and firing rate, commensurate with its potential for high damage output.
Our dev team aspires to break away from updating with similar weapons, and instead, introduce weaponry embodying unique concepts to foster distinct gameplay experiences. We are hopeful that the Dragunov, with its new position in the weaponry arsenal, will offer an exciting, fresh dynamic for our players.
As we are introducing a novel system that expands on the existing mechanics of PUBG: BATTLEGROUNDS, we will be intensively monitoring both community feedback and vital gameplay statistics. Your thoughts and comments are not only welcome but crucial to us. Through these kinds of innovations, we aim to go beyond basic game balancing - our goal is to stimulate a rich tapestry of scenarios, augment the thrill of strategic gameplay, and establish a dynamic environment where our players can continuously evolve and improve their skills. The Dragunov, readily available as a world spawn weapon, is something we hope all players will have the opportunity to experience. We aspire for it to become a versatile and impactful choice across the board, in both Normal Matches and Ranked. We invite you to encounter the Dragunov in our Test Server today!
Collaboration: Aston Martin
Experience unparalleled sophistication with the three exclusive Aston Martin special vehicle skins, which promise to elevate your in-game and out-of-game experience to a level of luxury that only Aston Martin can provide!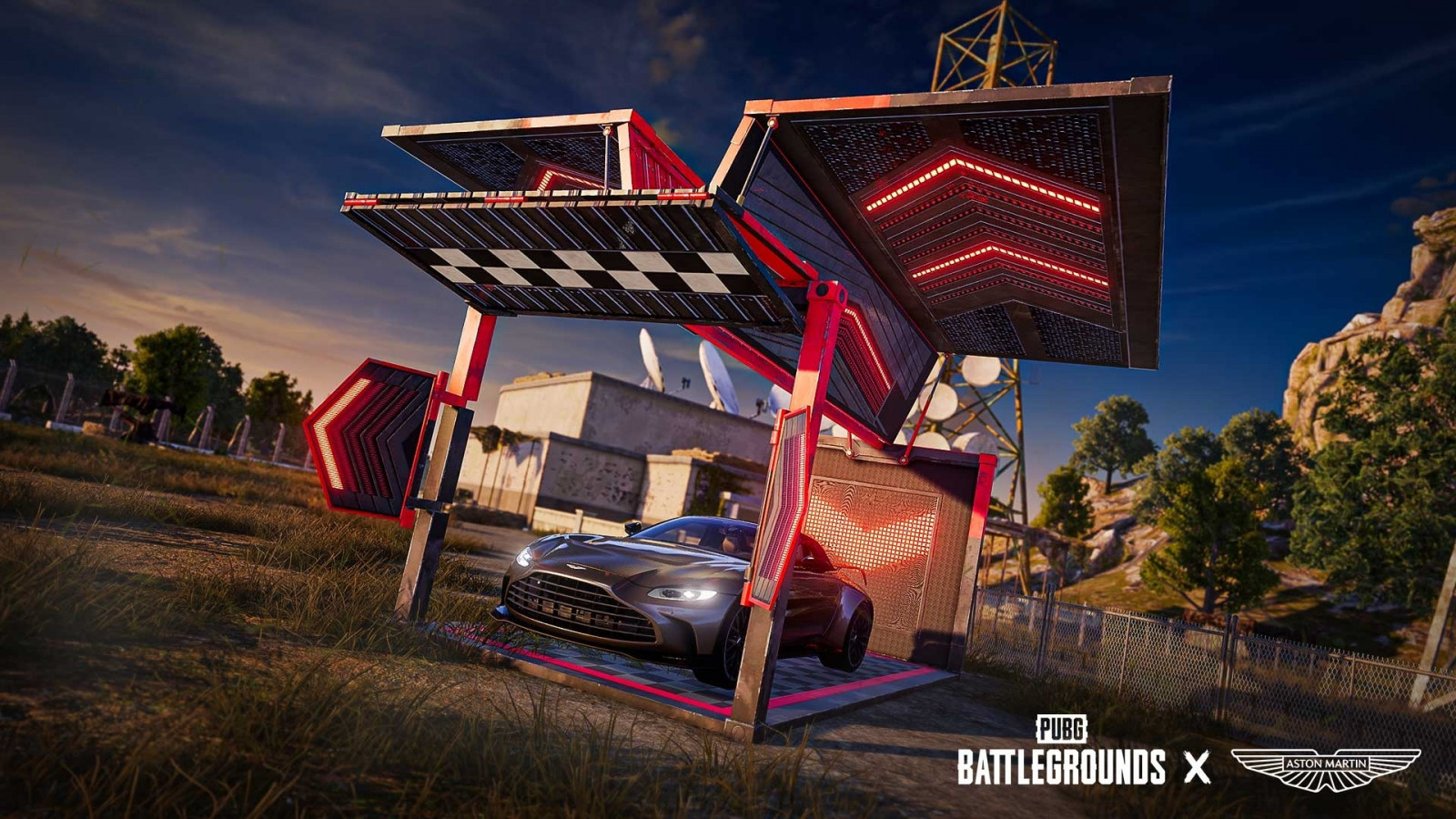 Aston Martin Container
An exclusive Aston Martin container is available in the starting areas of the Erangel, Miramar, Sanhok, Vikendi, Taego, and Deston.
The container can only be unlocked by players who own the Aston Martin skin.

If multiple Aston Martin skins are concurrently equipped, the system will randomly select one to display.

Only the player who unlocks the container and their teammates can operate or ride in the Aston Martin vehicle.
This feature can be utilized from the start of the match until players board the plane; once they do, the previously positioned container and the Aston Martin vehicle will disappear.
Available in Normal Match, Ranked, Casual Mode, and Custom Match - Normal Match.
The Aston Martin containers are available to use for two months.
Miscellaneous
Customize - Vehicle - Special Skins - Edit Skin

Even after the conclusion of the sales/rewards period, items unacquired will remain visible, distinguished by a lock icon.

Stay tuned for an array of exciting updates related to our collaboration with Aston Martin! Be sure to check out the Aston Martin announcement to learn how you can obtain the exquisite Aston Martin skins, explore the new Crafter Pass: Aston Martin, navigate the fresh Aston Martin Crafting page at the Workshop, participate in events, and much more!
World: Miramar
※ The following updates apply to every mode.
New Areas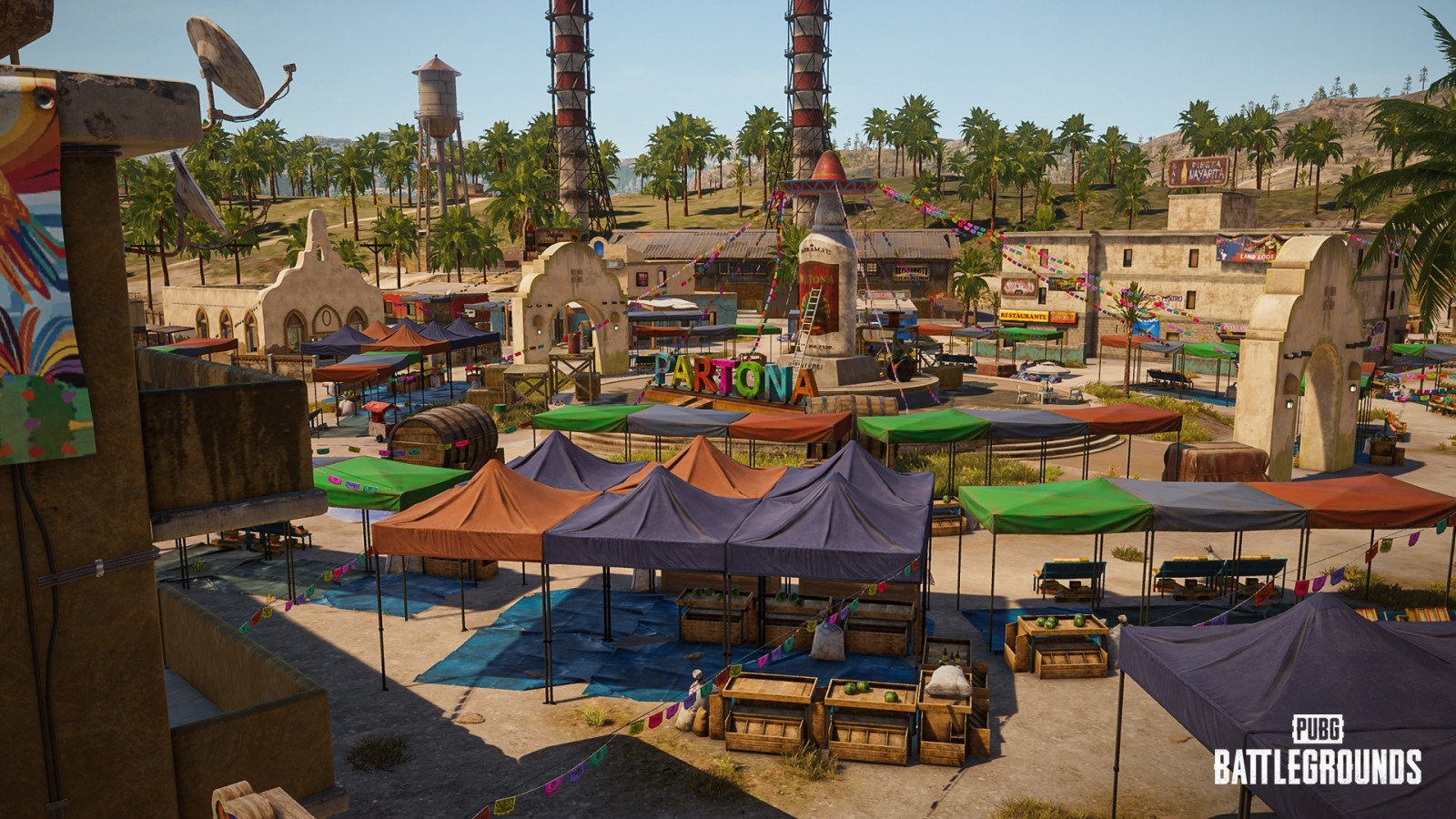 A lively hustle and bustle of markets and plazas, Partona is a circular village alive with a festival that harmoniously blends indigenous practices and traditions.
Partona replaces the previous area, Los Higos.
Added a new style of house sets.
Dev's comment:

Partona has been meticulously crafted to offer a looting efficiency similar to that of Los Higos. To provide a seamless navigation process for players, a bridge has also been constructed for easier access from the southern island.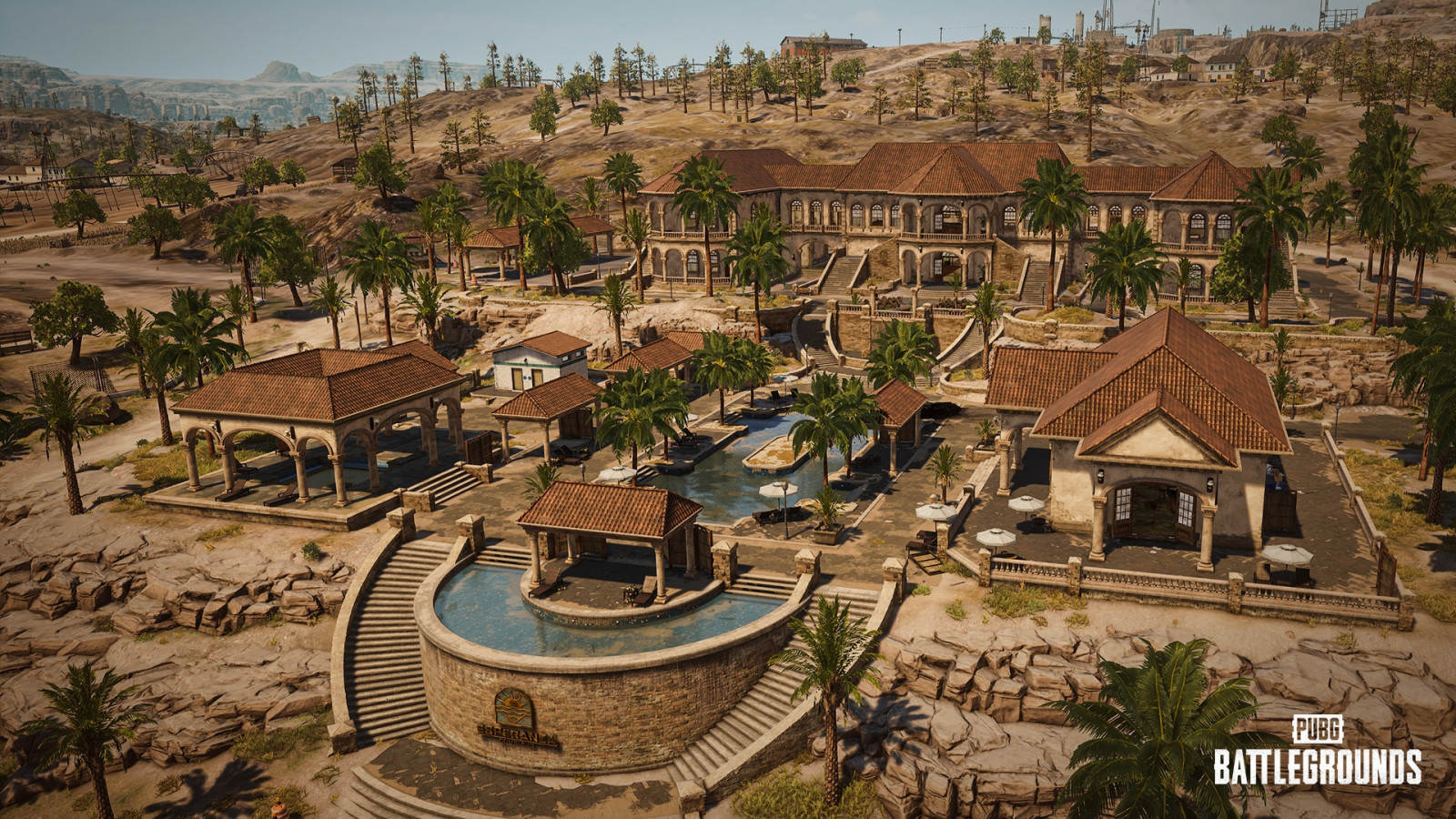 Conceptualized from an abandoned retreat, the Resort is majestically perched on a hill overlooking the sweeping southern seascape.
Adjusted the locations of house sets and roadways.
Dev's comment:

The previous terrain, densely filled with housing sets, offered suboptimal looting efficiency and the rough fields posed a challenging landscape for players, particularly when the Blue Zone shifted to this area. To enhance gameplay, we've removed the paddy fields, transforming the space into the Resort - a thrilling new locale for looting.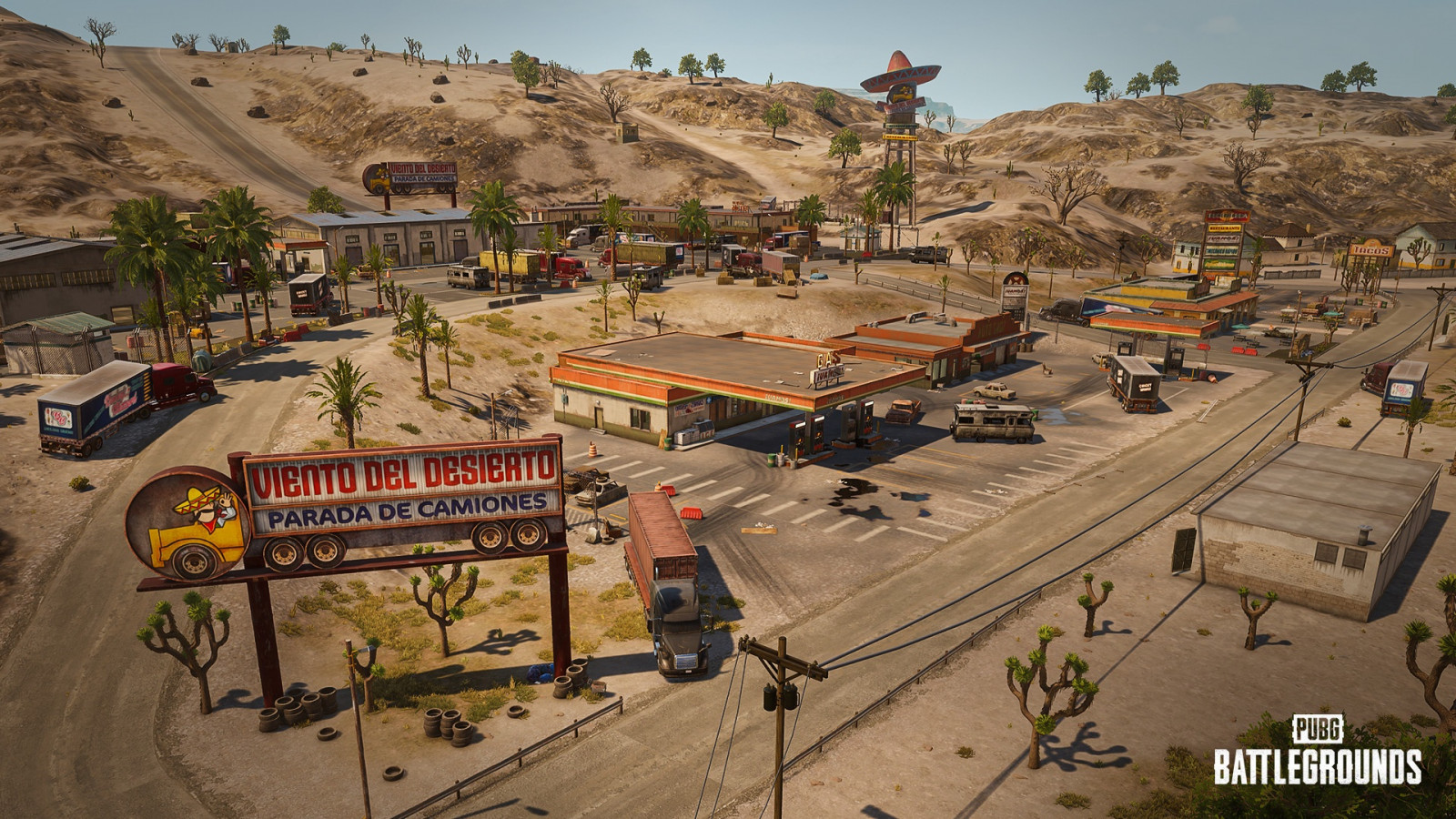 An oasis for trucks laden with materials to take a much-needed break.
The Truck Stop replaces the previous Junkyard area.
The redesigned layout includes a main road, secondary roads, and rustic dirt paths for improved navigation and engagement.
Improvements have been made to the surrounding terrain.
Dev's comment:

The Truck Stop introduces a unique visual theme and emphasizes a distinctive battle experience. With the integration of these new elements, we aspire to facilitate a different combat dynamic, distinguishing it from the other Miramar areas.
New Feature: Sandstorm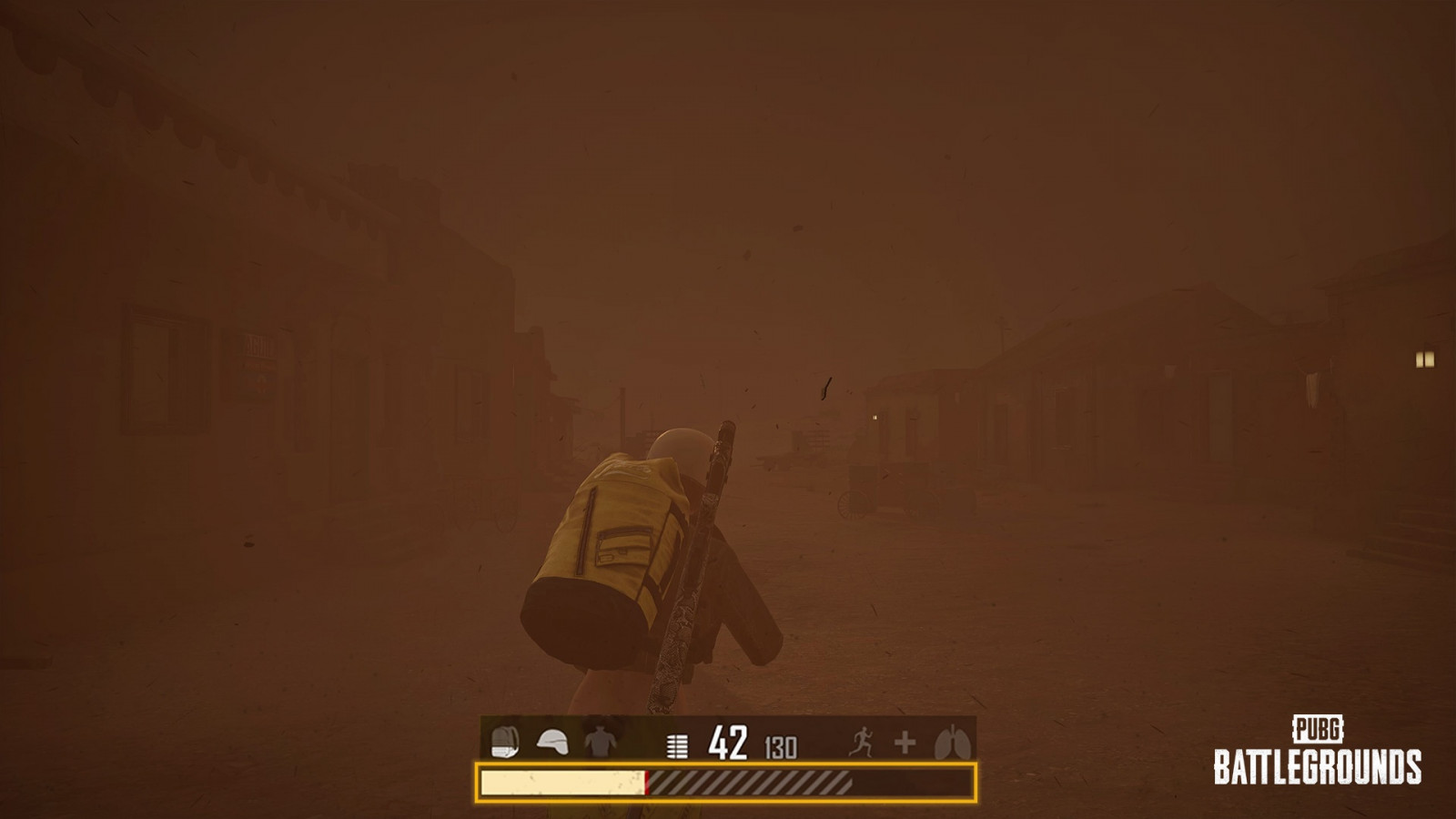 Presenting a vigorous wind of sand that traverses across the desert-like map - the Sandstorm. The Sandstorm...
replaces Miramar's existing Red Zone.
gradually depletes the health of players inside, regardless of their location - be it within a vehicle or inside a building.
obstructs visibility to a certain extent.
slightly slows down movement speed.
extinguishes Smoke Grenades and Molotovs.
generates static electricity due to the intense friction from the swirling sands, rendering electronic equipment such as Jammer Packs, Drones, Spotter Scopes, Blue Chip Towers, and Blue Chip Transmitters inoperable.
subsides after some time.
does not form over the sea.
displays a warning message during the match and its activated area UI on the world map.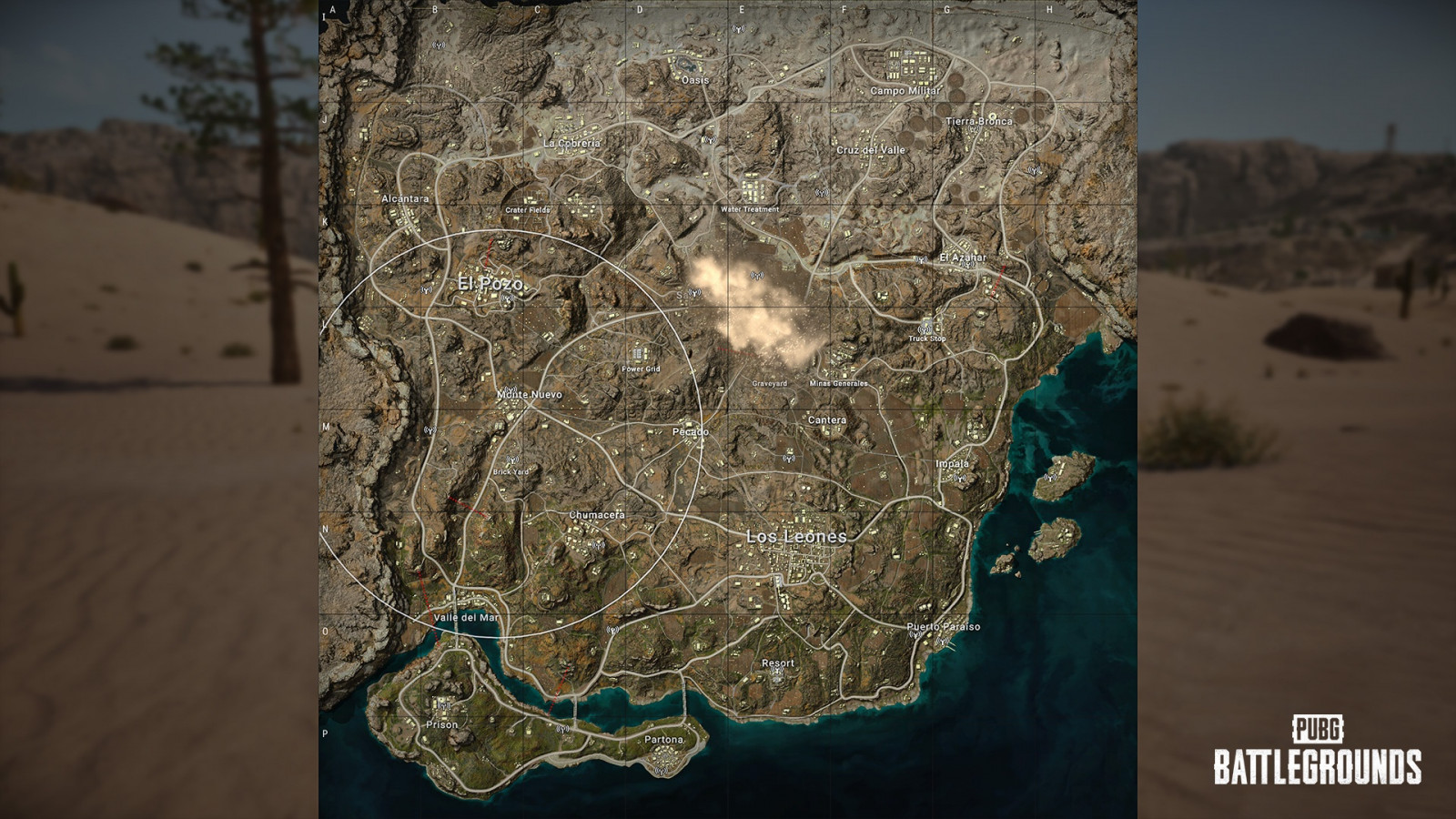 New Feature: Zipline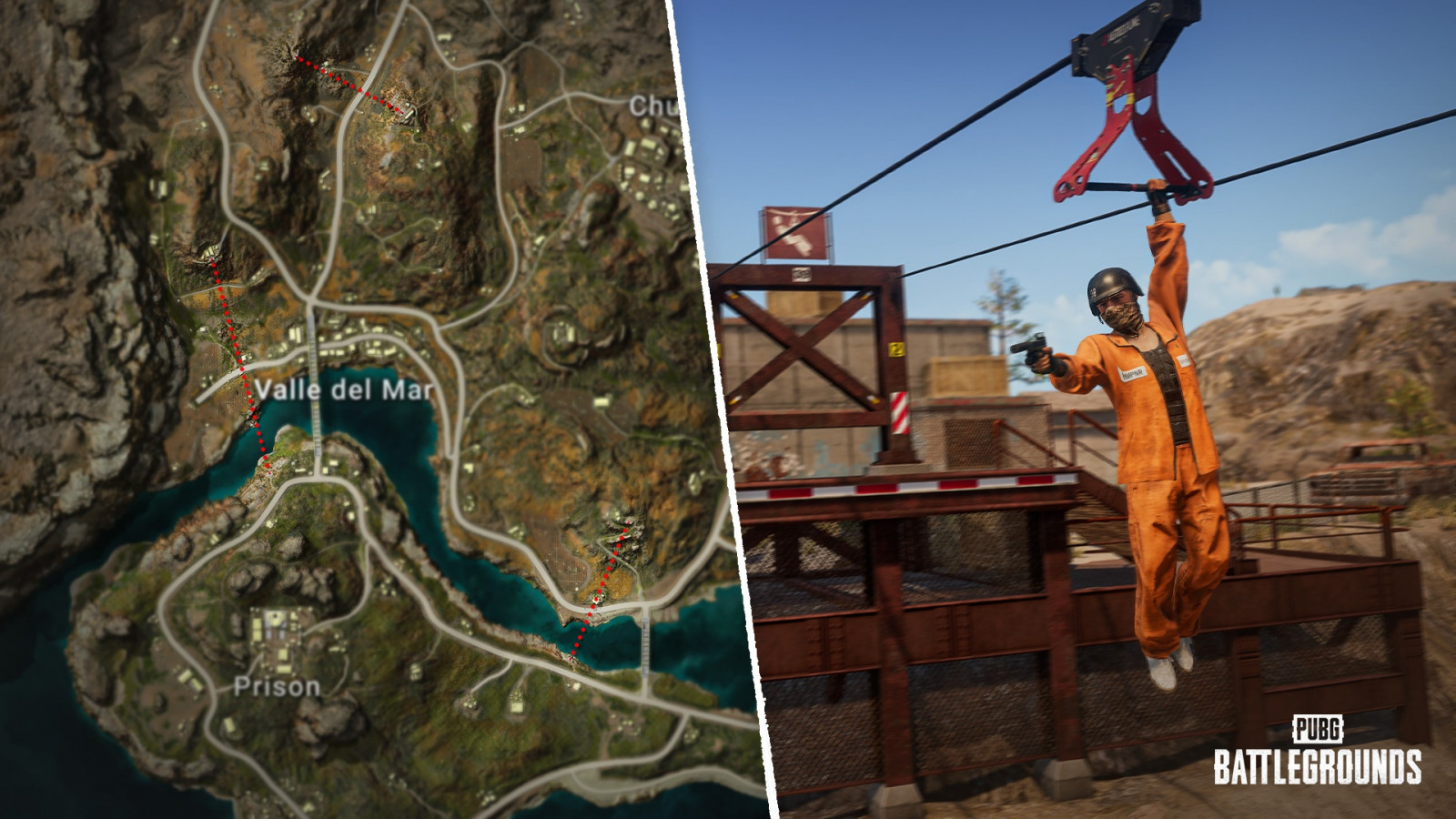 Introducing the new Zipline, enabling fluid navigation across various locations.
Every Zipline is equipped with two ropes.

Ziplines can be used using the Interaction key.
You can then embark with the forward direction key.
Ziplines allow straight-line movement only; reverse traversal is not an option.
Multiple players can use the Zipline simultaneously, but simultaneous boarding per rope is not possible prior to departure.

When players share the same starting point of a single rope, players can use the Zipline sequentially, following the departure of the preceding player.

Once players reach the opposite side, they are automatically unhooked from the Zipline.
Mid-journey release can be initiated by hitting the Interaction key again, leading to a fall.
In case of a fall, players can deploy their Utility Parachute depending on the fall's height.
SMGs or Handguns can be used while riding the Zipline, but reloading is disabled.
Ziplines are marked on the map.
Dev's Comment:
With the introduction of Ziplines, players can strategically navigate through the islands and various ridges of Miramar at a brisk pace. Difficult-to-access spots, like enemy-guarded areas, can be breached swiftly and stealthily via Ziplines. The feature not only adds an exciting layer to combat dynamics but also aims to mitigate the challenging terrain of Miramar.
Area Modifications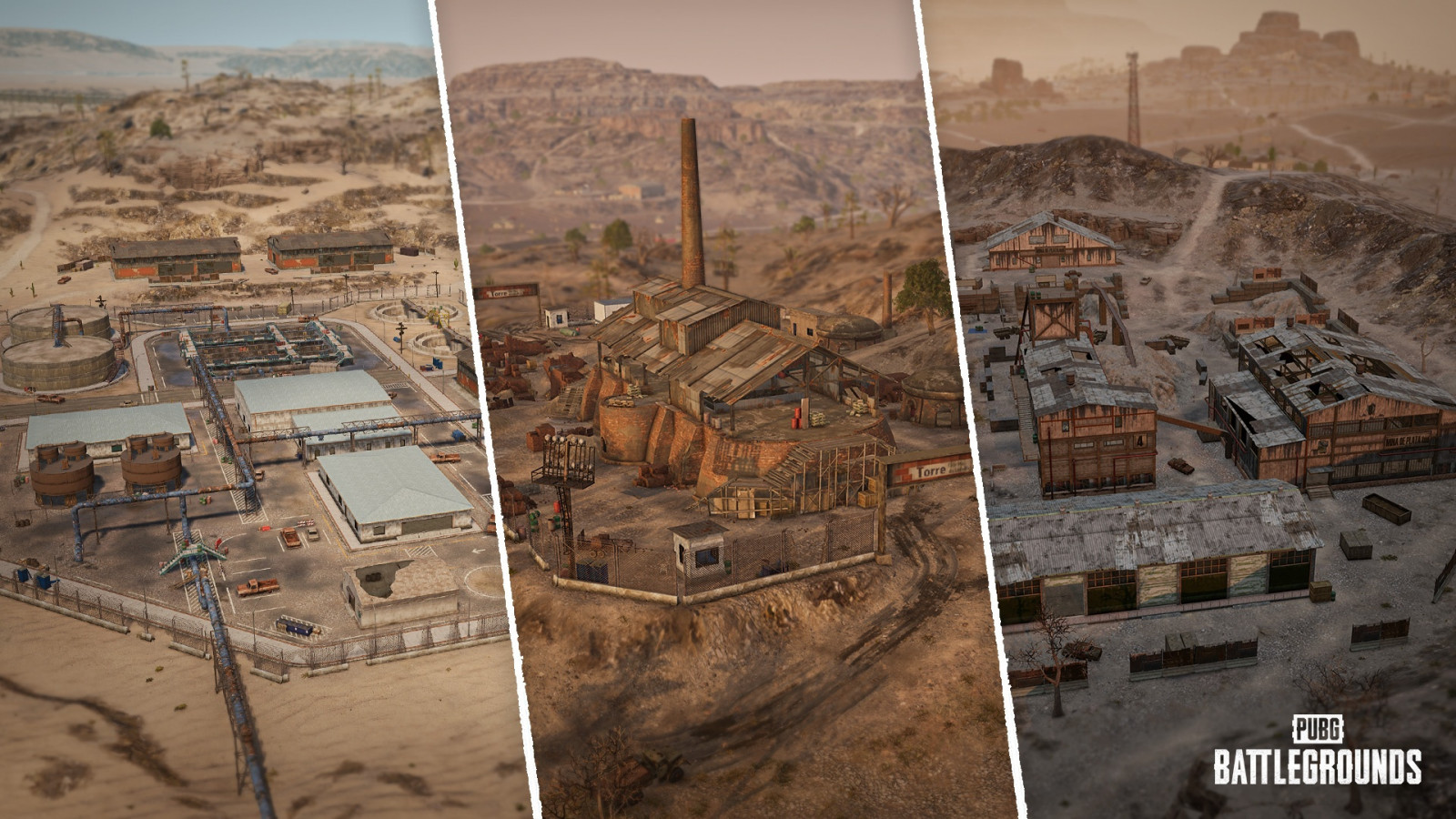 Alcantara

Removed the Trailer Park and Ruins, and in its place, repositioned Alcantara to be slightly closer to the heart of the map.
Removed main roads that meandered around the outskirts.
Inserted a main road coursing through the town.
Tidied up nearby terrain and roads.
Placed new buildings and removed certain others in the vicinity of the newly positioned Alcantara.
Dev's comment: By moving Alcantara closer to the center of the map, our goal is to retain its original charm while increasing its efficiency, and making it a more appealing location for players.

Brick Yard

The area formerly known as Ladrillera has been rebranded as the Brick Yard.
This area holds the concept of a brick production site that caters to the brick usage in Miramar.
Revamped the entire layout, introducing new structures and looting spots.
The surrounding landscape has been enhanced for better accessibility.
Dev's comment: Despite its unique theme, Ladrillera wasn't utilized as a looting spot as much as we hoped. We have therefore enhanced its looting capabilities and reinforced its brick factory artistic concept.

Campo Militar

Removed Torre Ahumada, and in its place, repositioned Campo Militar.
Improved the general layout.
A shooting range and additional roads have been added.
The terrain has been modified.
The former location of Campo Militar now features house sets.
Dev's comment: By removing certain less favored areas from the outskirts, and maintaining the original Campo Militar concept while moving it nearer to the map's center, we're striving to make it more accessible for players.

Cantera

Transformed the artistic concept of Cantera, reimagining it as a facility that processes, stores, and manages resources required for the construction of other buildings and factories.
The entire layout has been reconfigured and the terrain enhanced.
Dev's comment: We removed the current concept of ruined buildings used in La Bendita, and replaced it with a new concept featuring warehouses that promise efficient looting.

Chumacera

The surrounding area has been improved and terrain bugs fixed.
Added more rock and tree covers.

Impala

The surrounding terrain has been enhanced.
Added more areas for cover.

Los Leones

Certain buildings have been removed for optimization purposes, and in its place, new structures have been added.
Certain objects have been modified or removed.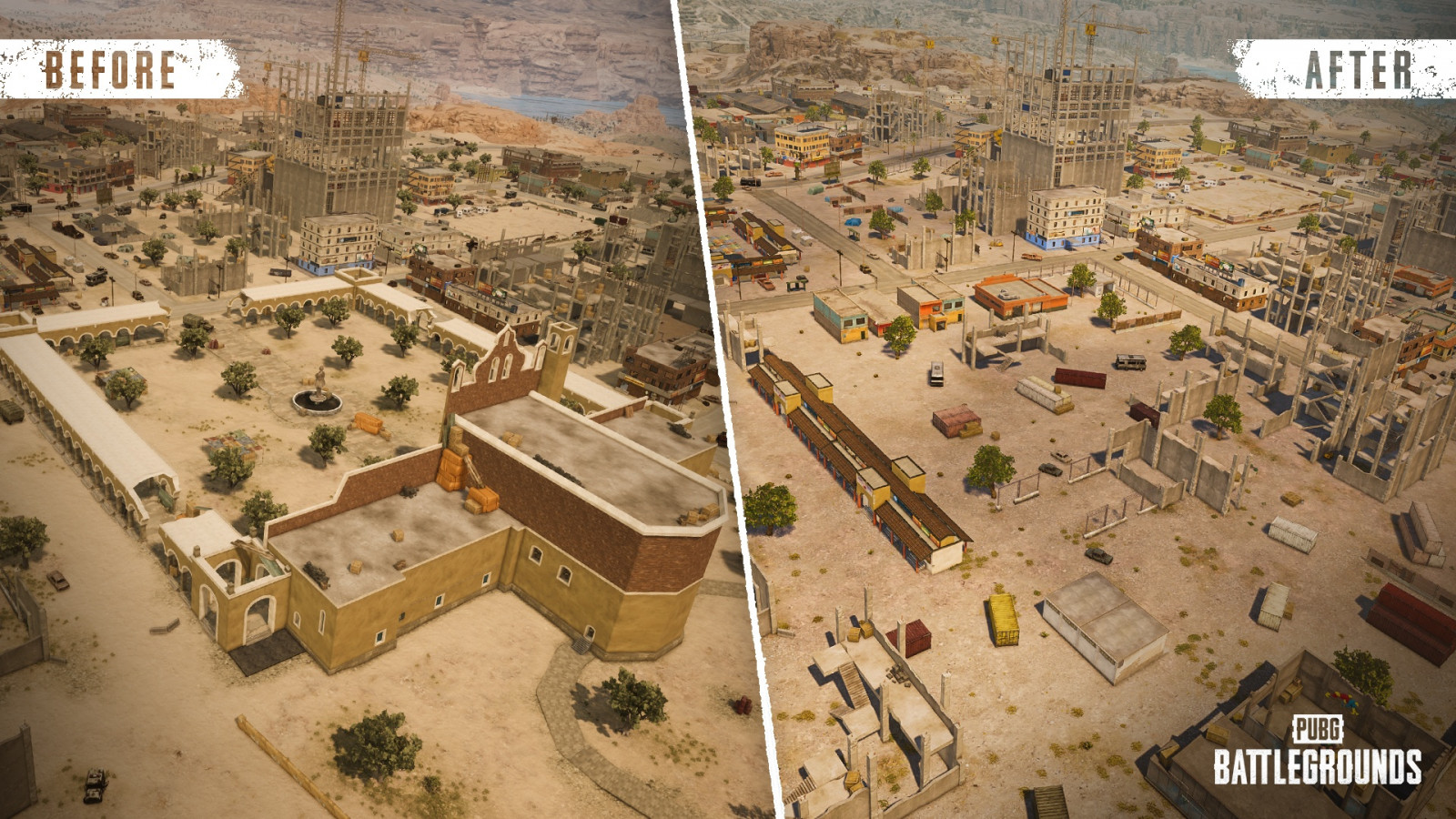 Pecado

The surrounding terrain has been improved.
Dev's comment: The firing range from atop the cliff has been limited. Skillful use of cover below now makes it harder to fire from the cliff's edge. The environment now resembles a valley, offering sufficient cover for players and their vehicles.

Power Grid

Cliffs have been added and certain current ones removed.
The size of cliffs has been adjusted.
Dirt roads and more cover have been added.

Prison

Removed Minas del Sur and in its place, repositioned Prison.
The layout has been upgraded and main buildings polished.
Surrounding cliffs have been removed and the terrain modified.
Roads have been added.
The former location of the Prison now features a set of houses.
Dev's comment: The previous location of the Prison was situated on the peripheral parts of the island, rarely attracting players for initial looting. To address this, we removed Minas del Sur and redesigned the Prison, now nestled within a natural enclosure of ridges.

Water Treatment

Loot-rich buildings have been placed.
The general layout, surrounding terrain, and cliffs have been improved.
Entrance routes have been tidied up.
A main road has been added.
Dev's comment: We transformed the area into a more efficient looting spot and improved the surrounding terrain to facilitate easy entrance and escape, hoping to make it a more efficient drop spot.

Southern island

The southern island has been expanded.
Bridges have been added to connect it to the mainland.
The positioning of house sets has been modified, with more being added.
Surrounding cliffs have been improved for easier access.
Roads have been added.
Dev's comment: By adding bridges and Ziplines, we hope to diversify the gameplay, offer alternative routes, and alleviate the stress associated with navigating the island.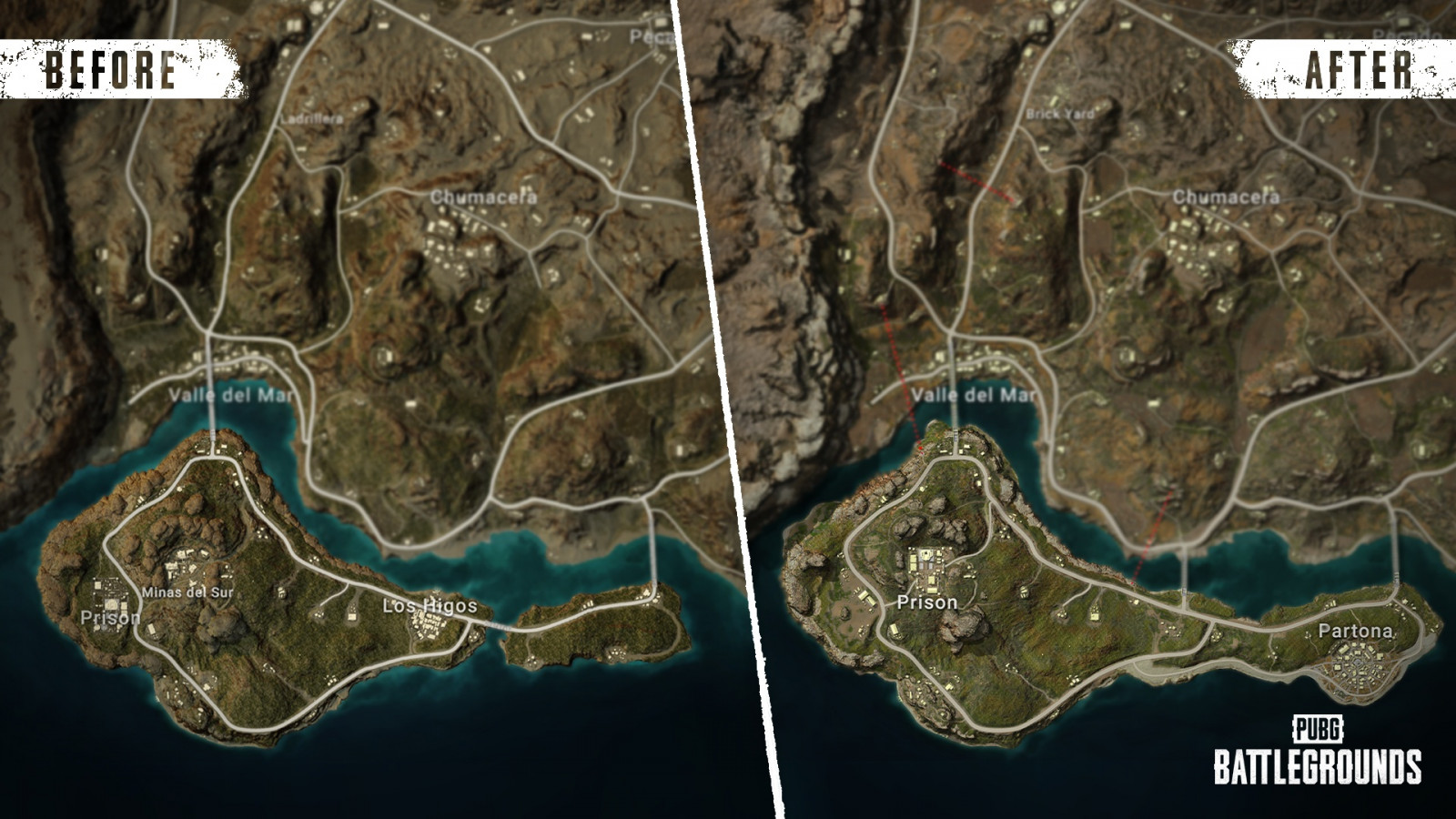 Spawns
Additional Pickups and Mirado vehicles will now spawn in both Normal and Ranked modes.
Weather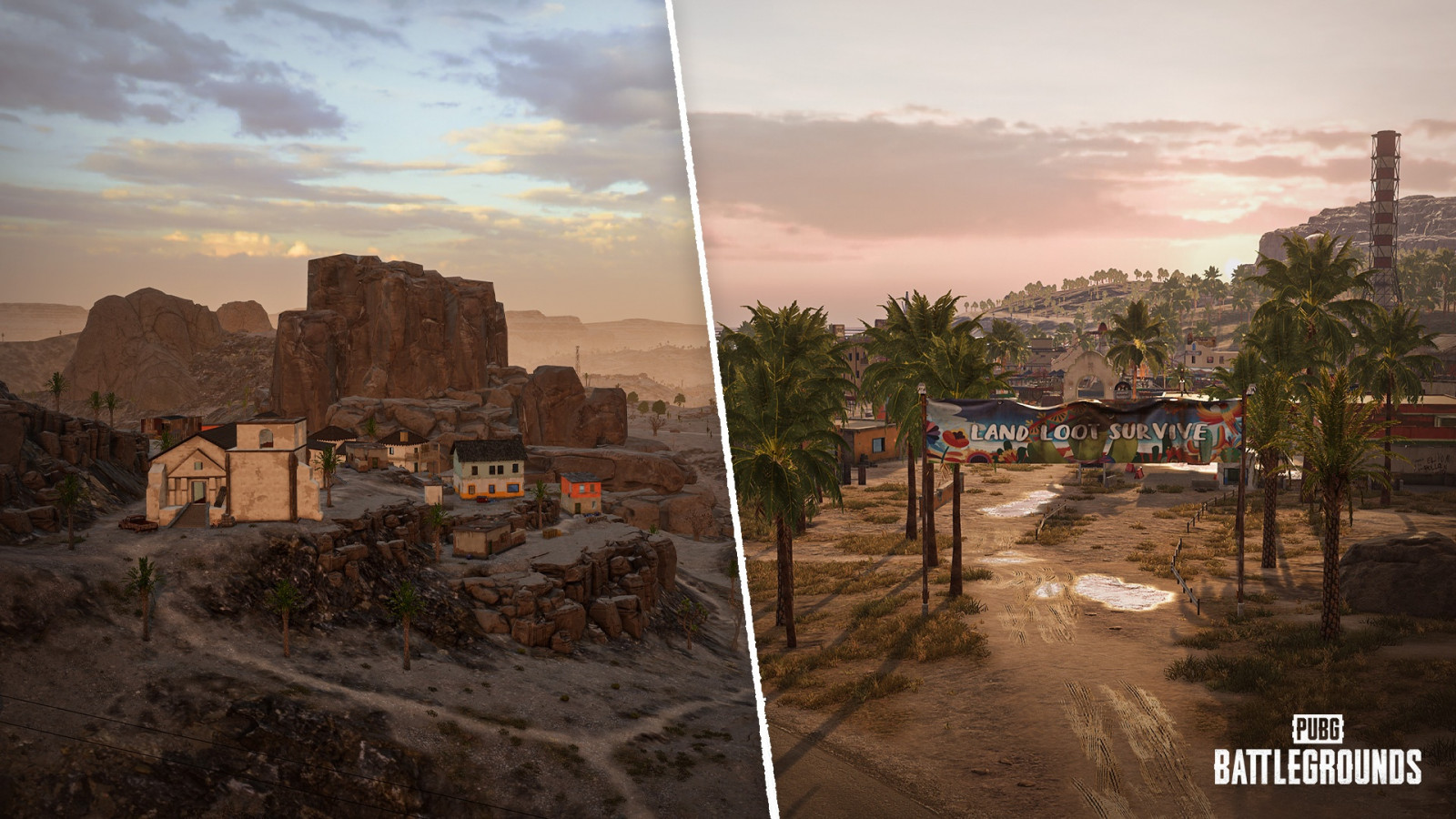 A new desert-inspired Hazy weather has been added.
The Sunset weather has undergone a rework.
The texture of Clear weather has enhanced.
Please note the in-game weather is determined randomly based on specific probabilities.
Texture
Enhanced the overall map textures including terrain, trees, grass, and rocks.
A new sediment rock texture has been added to cliffs.
Cliffs have undergone color adjustments and certain cliffs have been replaced.
Map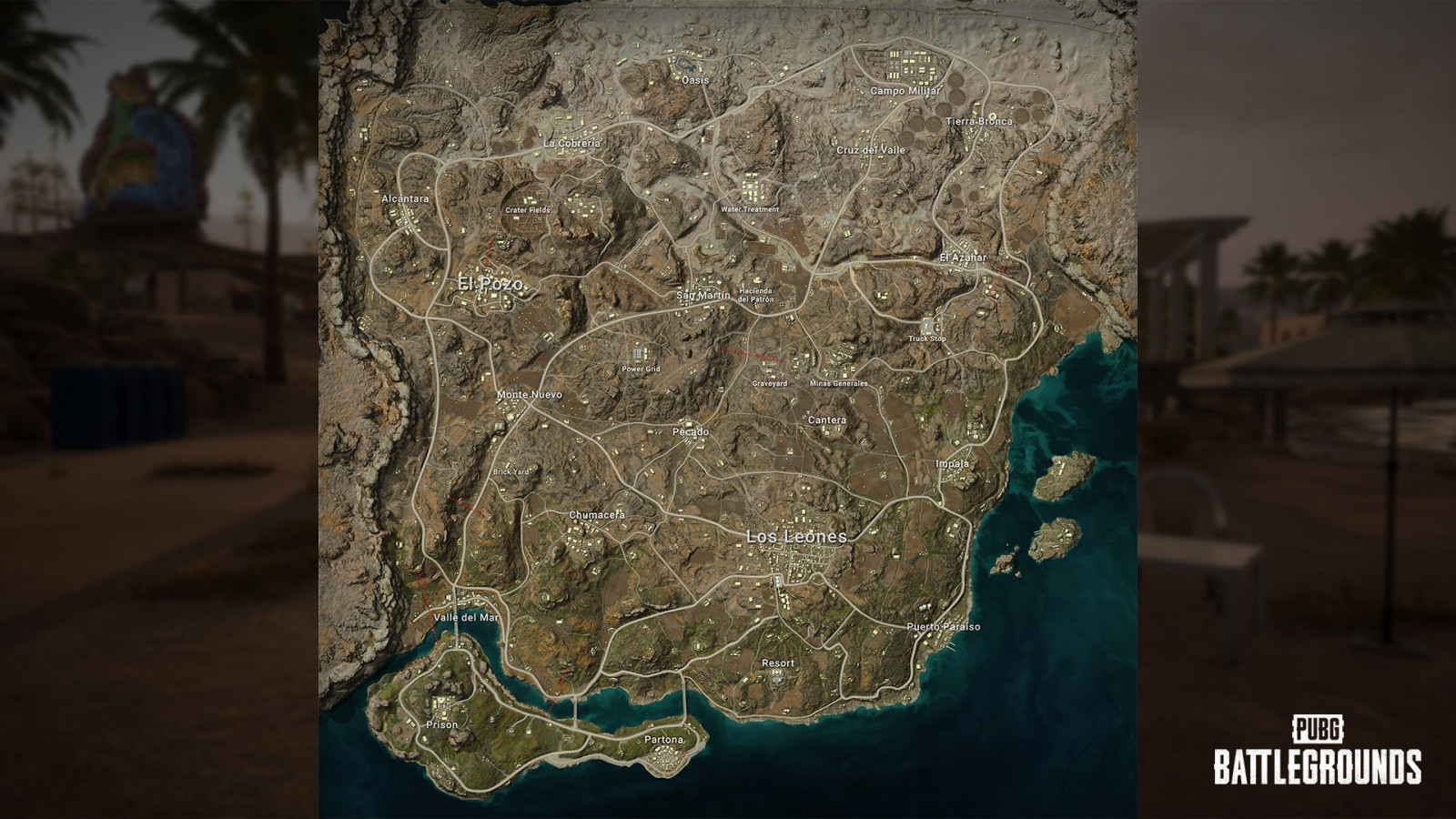 In alignment with the above changes, the World Map and Minimap have been updated.
Blue Zone
Adjusted Blue Zone system in Ranked and Esports mode to provide a more challenging predictive element.
Miscellaneous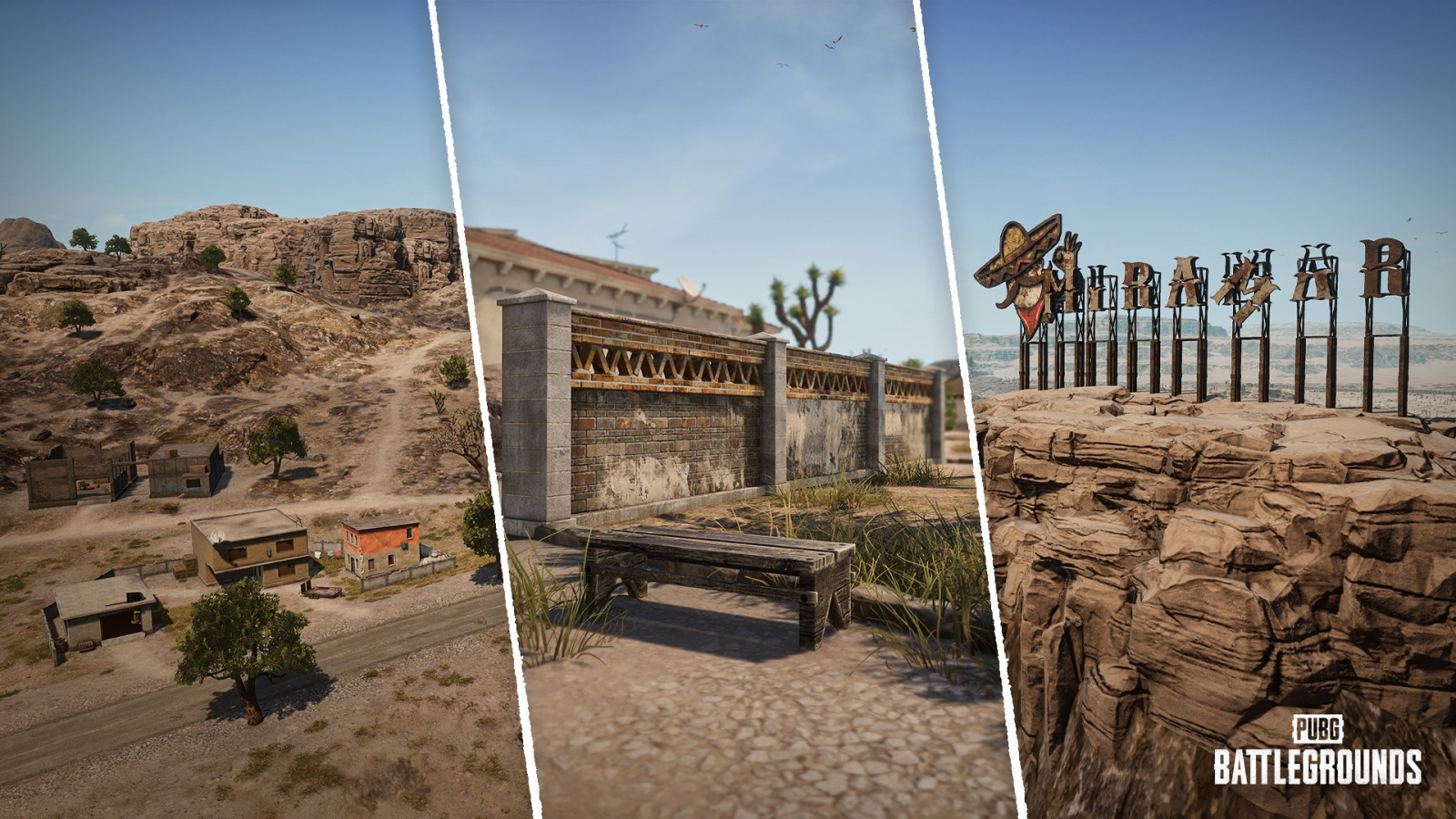 Fuel Pumps have been added throughout the map.
General improvements have been made to the quality of buildings and doors.
Blue Chip Towers have been relocated following the terrain alterations.
Added a new Miramar signboard.
New foliage, such as desert plants, cacti, and desert trees, have been integrated into the environment.
Reshaped some standard field areas to a circular design.
Added new environmental objects such as tumbleweeds and plastic bags.
Certain fences have been removed, and others replaced with more fitting designs.
Dev's comment:
In our latest update for Miramar, our primary focus has been on fine-tuning and enhancing existing features, rather than implementing a large-scale overhaul.
Historically, Miramar presented players with numerous challenges: navigating difficult terrain, engaging in complex ridge combat, and strategizing around challenging landscapes. With this update, our aim is to diversify the gameplay experience by introducing various visual enhancements and incorporating new content. All the while, we've made every effort to maintain the core elements that define Miramar's unique gameplay.
We have worked to improve the Miramar terrain, merging a wider range of strategic routes to alleviate difficulties related to player movement, all while preserving Miramar's hardcore ethos. In our first step towards this goal, we have simplified or entirely removed certain areas of the map that were underutilized or somewhat isolated, thereby streamlining the gameplay for our players.
For this update, we have meticulously reworked elements of the map that were inconsistent with accumulated gameplay data and player feedback. Our aim is to broaden the spectrum of possibilities for players within the visually enhanced map environment.
We hope that, through these changes, we can increase the variety of viable looting spots available to players during the initial phases. In turn, this should enrich both movement patterns and strategic decision-making within the game. Our ongoing mission is to continue enhancing the game, maintaining balanced map environments and fostering gameplay diversity. Our goal is to refresh established patterns and ensure that Miramar becomes an even more engaging and accessible map for all players.
Gameplay
Emergency Pickup
The Emergency Pickup plane is replaced by a helicopter.

Sound effects adjusted accordingly.

The helicopter's flight altitude has been reduced.
Dev's comment:
We've been closely tracking your comments regarding the Emergency Pickup, including concerns about the plane's altitude making it difficult to spot, the confusion caused by the similar sound effects it shares with Care Packages, and its frequent drop-offs to inaccessible areas. To address these issues, we have implemented balance modifications to the Emergency Pickup.
6x Scope
The zeroing adjustment feature, which was previously accessible only on the 8x and 15x Scopes, is now available on the 6x Scope as well.
Zeroing adjustment: 100m~500m.
Equipping Special Vehicle Skin
Upon entering the driver's seat of a vehicle, your owned Basic vehicle skin will be automatically equipped.

If the selected vehicle already has a Basic skin equipped, it will be automatically replaced with your owned Basic skin.
If the selected vehicle has a Special vehicle skin equipped, the appearance of the vehicle will remain unchanged.

If you own a Special vehicle skin, it will be equipped only when you press the Limited Interaction key.

If the selected vehicle has a Basic skin equipped, it will be replaced with your owned Special vehicle skin.
If the selected vehicle has a Special vehicle skin equipped, the appearance of the vehicle will remain unchanged.

This update is applied as the default setting. You can change the settings through Settings -> Gameplay -> Function.
Death Cam
You can now use the Spectate feature after viewing the Death Cam.
You have the option to return to Spectate the match via System Menu - Leave Replay or the match results screen after you have viewed the Death Cam.
Taego Multi Care Packages
Readjusted the quantity of Multi Care Packages available in both Ranked and Esports mode on the Taego map, ensuring it aligns with the quantity in Normal Matches.

Before: Min. 5 / Max. 15
After: Min. 5 / Max. 10
Ranked - Season 25
The leaderboard will reset after the Live Server maintenance.
Check out your final Tier from the previous season through your Career page.
Season 24 Rewards
Below are the rewards you'll be receiving based on your final Tier from the previous Ranked season.
Bronze
Bronze PUBG ID Emblem
Silver
Silver PUBG ID Emblem
Gold

Gold PUBG ID Emblem

Ranked Parachute Skin

Platinum

Animated Platinum PUBG ID Emblem

Ranked Parachute Skin

Platinum Medal

Diamond

Animated Diamond PUBG ID Emblem

Ranked Parachute Skin

Platinum, Diamond Medal

Master

Animated Master PUBG ID Emblem

Animated Master Nameplate

Ranked Parachute Skin

Platinum, Diamond, Master Medal

Top 500

Bonus rewards for Top 500 players:

Animated Top 500 PUBG ID Emblem
Animated Top 500 Nameplate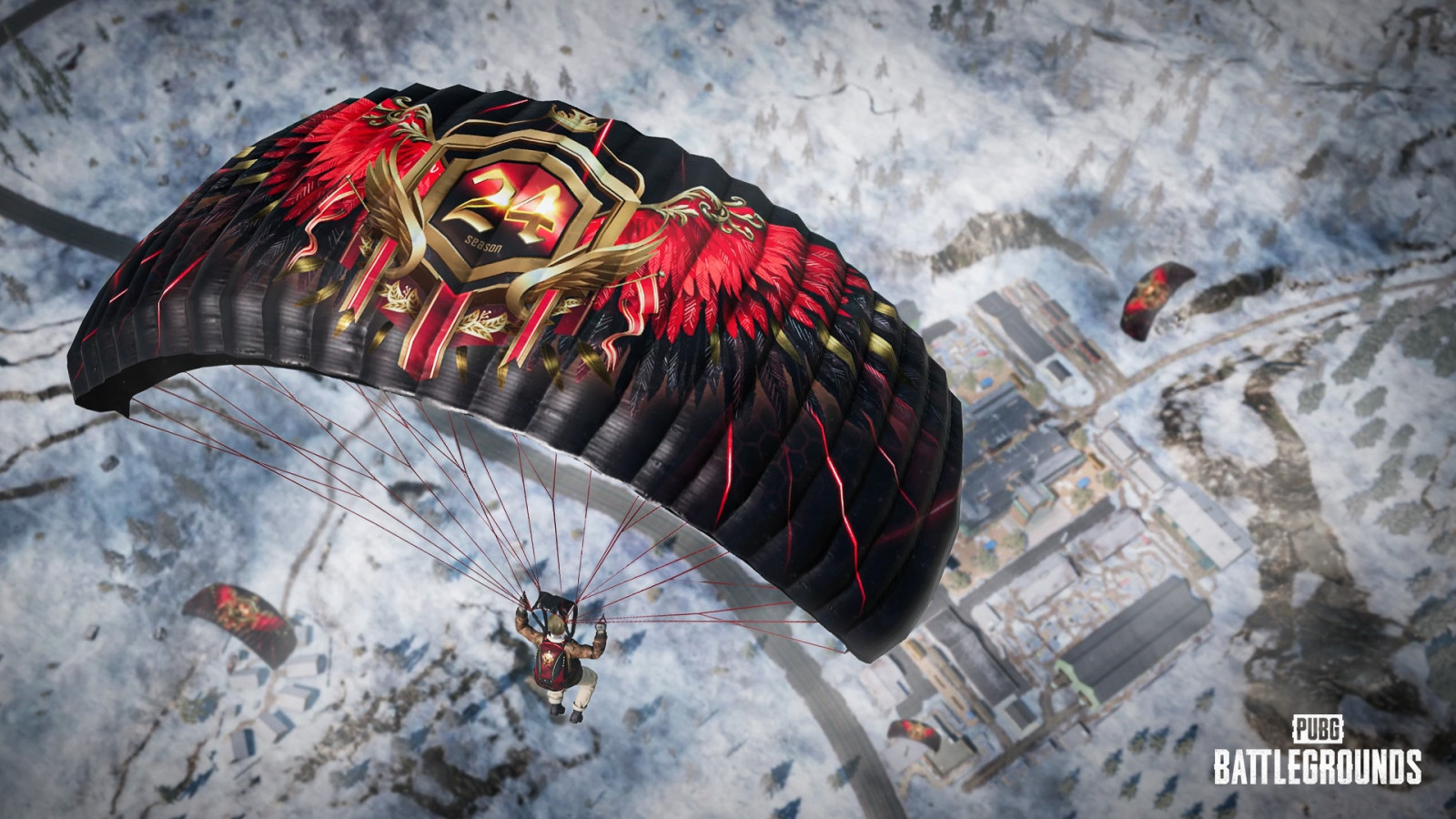 The Parachute skin and Medals are permanent rewards.
The rest of the obtainable rewards are available for use during a single Ranked season.
Rewards can be found in your Inventory once Season 25 starts.
Once Season 25 is over and the server undergoes maintenance, every reward but the Parachute and Medal will be withdrawn from your Edit Profile page.
Arcade
The Social/Clan buttons have been removed from the main page.
Team Deathmatch
※ The following updates apply to Custom Match - Team Deathmatch as well.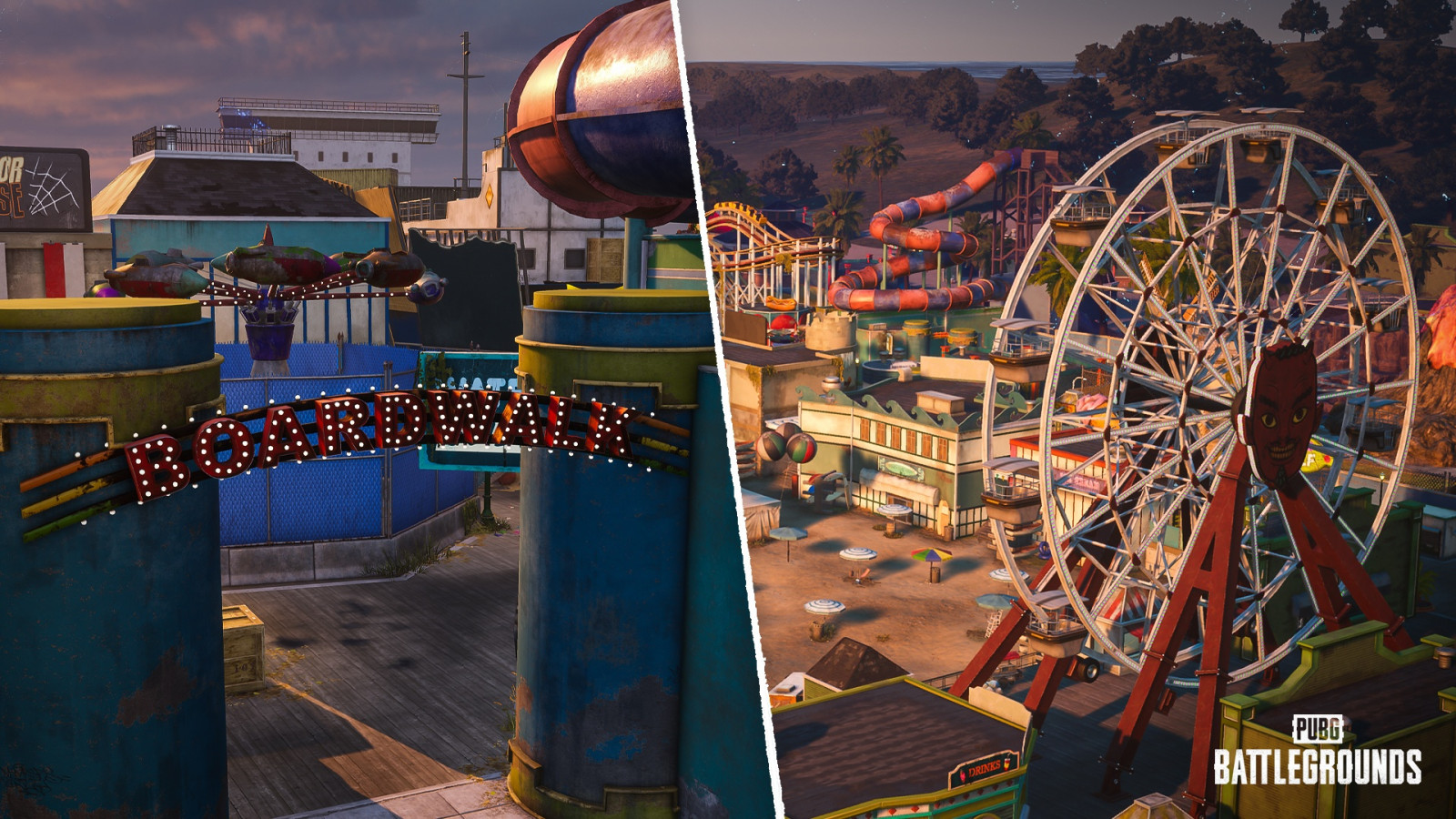 New Map: Boardwalk

Introducing Boardwalk, our latest map exclusively designed for Team Deathmatch! Designed to promote diverse combat opportunities, Boardwalk caters to an array of gunplay styles. Players will encounter a complex network of intersecting routes, bridging varied locations such as the Beach, Parking Lot, Plaza, Midway, and more. Explore, adapt, and conquer your enemies on Boardwalk!
Certain areas, including most rooftops and higher up areas, are inaccessible.
Increased the speed of Ascenders compared to the regular live matches.

Dragunov Kit has been added.
The Sosnovka Military Base map, identified as having the highest leave rate, has been removed.
The Campo Militar map, subject to significant modifications in line with the Miramar update, has been removed.
The probabilities for map selection have been readjusted.
Intense Battle Royale
FPP mode has been added.

TPP mode has been removed.
Dev's comment:
Following the initial release of Intense Battle Royale, we've observed its widespread popularity among our fans, and at the same time, also noted a steady stream of feedback expressing a desire for the availability of FPP mode, with many opinions voicing that the pulsating late-game scenarios inherent to the Intense Battle Royale experience could be more immersive if experienced through FPP. Acknowledging this, we've shifted the gameplay perspective from TPP to FPP.
As part of our ongoing commitment to enhancing the gaming experience, we've been exploring various improvements up to this point, such as the addition of new areas, and believe this change can further elevate the immersive qualities of Intense Battle Royale.
While TPP has been phased out of live matches, players can still enjoy TPP in Custom Matches!
Custom Match
In accordance with the Miramar update, the previous version of the Miramar map has been removed.

Team Deathmatch - Campo Militar
War Mode - Default Settings, Abandoned Village, Bomb Kit (Dodgebomb), VSS Kit, Overpower Kit (Desert Knights), Sniper Kit (One Shot One Kill)
War Mode: Conquest - Default Settings

Sosnovka Military Base has been removed from Team Deathmatch.
Lobby
New Feature: Team Suggest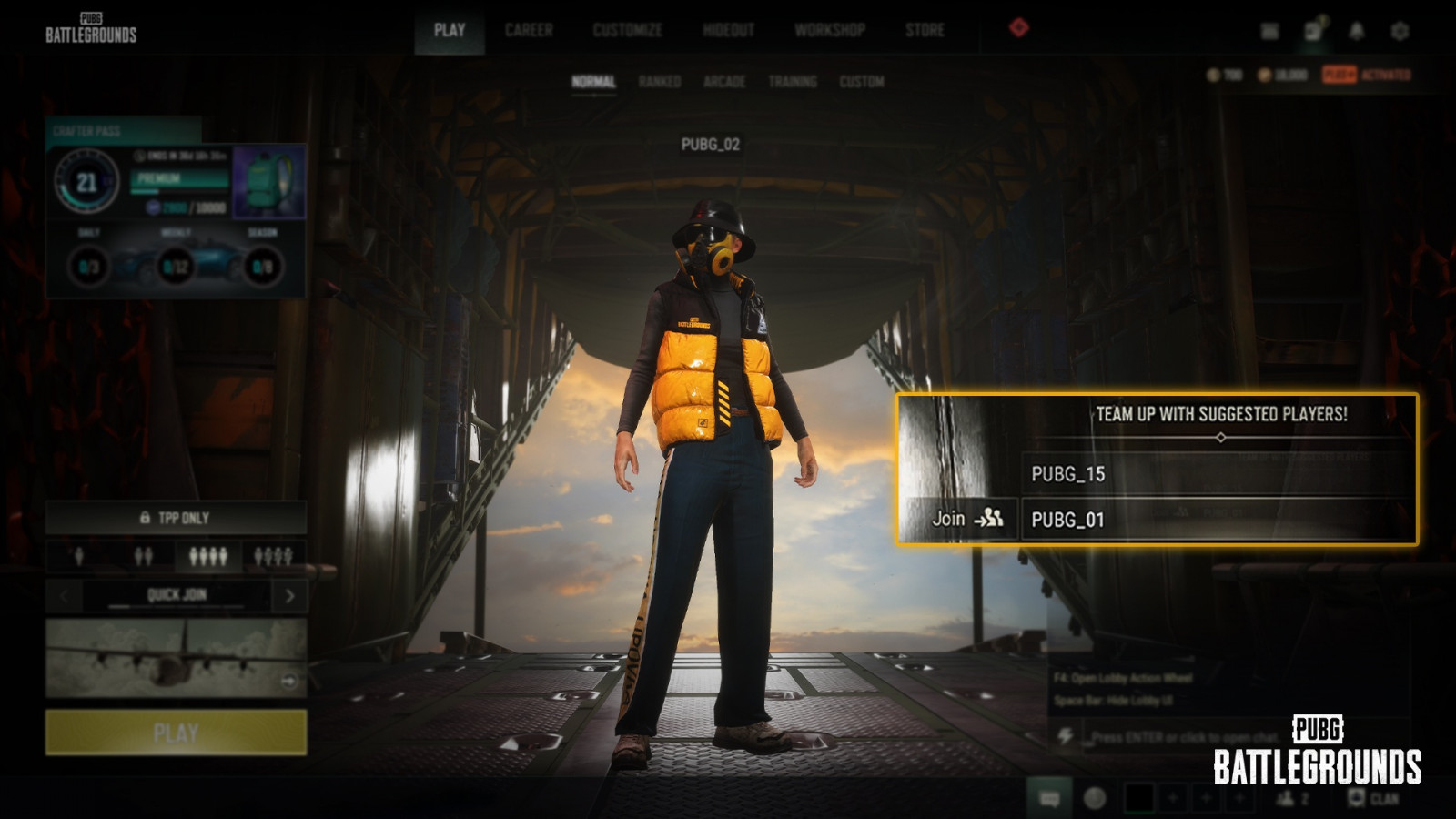 A new Team Suggest feature has been added.
Focuses on recommending online players from a pool of your PUBG: BATTLEGROUNDS friends, affiliated Clan members, and 30 players you've recently played with through the lobby UI.
There is a priority in player suggestion:

Players who have played more than five matches with you as a team are suggested as first priority. Among these players, suggestions are made based on the number of matches played, and in the case of a tie, recent matches are prioritized.
Players who have played between 1 to 4 matches with you as a team are suggested as the second priority, with a preference for recent matches.
After the above priorities are considered, if there are still open slots, logged-in friends or Clan members are suggested in the order of their most recent login.
In the event of completely identical priorities, a random recommendation will be made.

You can do the following actions depending on your current status:

If you are alone in the lobby:

If the suggested player is your friend/Clan member and alone in the lobby, they can join your party (You can invite if joining is not permitted).
If the suggested player is your friend/Clan member and part of a team or currently playing, they can join.
If the suggested player is not your friend/Clan member and alone in the lobby, they can be invited.

If you are in the lobby as part of a team:

If the suggested player is your friend/Clan member/etc. and alone in the lobby, they can be invited.

Up to 3 players can be suggested. When an action is taken, the players with the next priority are displayed sequentially. If all suggested players have been actioned and are no longer on the list, no more players will remain on the list.
However, there may be instances when a player may be suggested for team play but may not be able to join due to certain conditions.

For example, when the status of a player who has been proposed does not meet the required conditions before a lobby restart (switching between Normal Match and Ranked, re-entering the lobby after accessing the Social page, or restarting the lobby via settings), a system error message will be displayed.
Dev's Comment:
We've identified a need for a system that continuously suggests potential team members. In response to this requirement, we're introducing the Team Suggest feature that recommends familiar players to those who show a preference for team play. We're hopeful that this initiative will incentivize the formation of teams and heighten the enjoyment of matches with suggested players!
Team Up
The Team Up feature has been removed.

Every in-game and out-game UI has been removed.
Dev's Comment:
The Team Up feature was developed to facilitate immediate team formation among players who found synergy with randomly encountered teammates. However, not all team members finish the match simultaneously, as they might be engaged in other activities such as watching their Death Cam or spectating. This circumstance necessitated the consideration of numerous exceptional cases when forming teams, subsequently complicating the development and maintenance of fundamental team features.
Furthermore, the Team Up feature has been found to be seldomly utilized by our players. While it has potential value for a subset of our player base, the high maintenance cost combined with the introduction of the new Team Suggest feature have led to our decision to discontinue this feature.
Although we acknowledge the Team Suggest feature can't completely replace all functionalities of Team Up, it provides a variety of viable alternatives, as players can now transparently monitor the status of other players in the lobby and dispatch invites or friend requests. Additionally, the forthcoming Team Suggest feature will further assist in addressing a shortage of team members.
Clan
Clan Tag
Clan Tags are now visible in the following in-game areas as well:

Blue Chip and Blue Chip interaction UI
Drone interaction UI
Training Mode - 1v1 Arena - round start, match results screen
Team Deathmatch - scoreboard, match results screen
Bluebomb Rush - scoreboard, match results screen
(PC) Replay - Highlight View and Highlight View interaction key
(Console) Team list on the bottom left of the screen
Clan Name
You can now recognize the distinction between uppercase and lowercase letters - therefore, you'll now be able to modify the capitalization of your Clan Name using the Clan Name Change.
Miscellaneous
If you are kicked from a Clan, the duration of the cooldown period for rejoining or forming a new Clan will be communicated via the Notification Center.
Bug Fixes
Gameplay
Fixed general in-game bugs.
Fixed an issue that allows Helmets and Vests to be stored in the inventory using a Drone.
Fixed an issue where the primary weapon, when holstered, obscures part of the screen during specific character movements.
Fixed an issue that removes items from the Tactical Pack after the holder's death.
Fixed an issue that gives the impression of the Blue Chip Transmission Tower remaining usable even if its usage was cancelled during the transition from Phase 6 to Phase 7.

Fixed an issue causing abnormal Death Cam sessions when a player, having survived a Comeback BR, subsequently dies after eliminating another player.

Fixed an issue where the character animation does not appear from a certain distance when approaching a player using an Ascender.
Fixed an issue where a highlighting effect is applied when using a Blue Chip Transmitter.
Fixed the awkward perspective when switching to ADS after getting knocked out and revived during Drone use.
Fixed an issue causing abnormal movement/perspective control and weapon firing when using an Emote before transitioning to the next Bluebomb Rush round.
Fixed an issue allowing for unilateral attacks by penetrating a specific object in Bluebomb Rush mode.
Fixed an issue causing low-quality display of building textures in Bluebomb Rush mode.
(PC) Fixed an issue where the character could get stuck when exiting a vehicle in tight spaces.
(PC) Fixed an issue where a Bluebomb Rush match does not conclude immediately when there are no players in the opposing team.
World
Fixed collision, texture, performance, and some other general map issues.
Fixed an issue that allows access to Vikendi's Secret Rooms without a Security Key.
Fixed an issue where specific wooden doors in Miramar do not get destroyed properly.
Fixed an issue where items become embedded in the ground when dropped at certain intersections in Miramar.
Fixed an issue where vending machines in Miramar disappear when approached from a certain distance.
Fixed an intermittent issue of players getting stuck while crawling under tractors in Miramar.
Fixed an issue that allows players to see through a specific wall in Miramar.
Fixed an issue that restricts smooth passage through certain doors in Miramar.
Fixed an issue that causes players to spawn in abnormal locations and consequently die on the starting island in a Paramo match.
UX/UI
Fixed the text marked as "Rule" to "Rules" in Arcade's mode lobby.
Fixed an issue where certain languages are not implemented on the match results screen in Bluebomb Rush mode.
Fixed an issue causing team scores to momentarily display as -1 when specific conditions are met in Bluebomb Rush mode.
Fixed the incorrect text on the match results screen in Bluebomb Rush mode in Turkish language setting.
Fixed an issue where the system does not recognize season mission achievements, even after a player completes every season mission.
(PC) Fixed the awkward line break in Your Shop in Japanese language setting.
(PC) Fixed an issue that displays a login notification when a friend transitions to the lobby after a match.
Items & Skins
Fixed an issue causing the Kansas Headband to disappear when equipped with the PCS7 Hoodie.
Corrected a typographical error present on the Four Angry Men - AKM.
(PC) Fixed an issue where the character's thigh appears transparent after equipping WackyJacky101's Knee-High Boots with the Gulfwatch Lifeguard Shorts.