LABS: Zombie Survival 2.0 Returns
How have you been? There's good news and bad news. The bad news is that the zombies have returned, still longing for your blood. However, the good news is that you can outsmart the zombies by utilizing tactical items and cooperating with your team, so never let go of hope!
LABS: Zombie Survival 2.0 has returned with even more hordes of zombies!
We hope you survive the zombie invasion with either expertise or beginner's luck.
Basic Rules
Zombie Survival has a total of 10 stages that last 3 minutes each.
To get to the next stage:

Kill every zombie OR
At least one teammate stays alive until the very end.

Once a stage is cleared, you and your squad will have a 20-second break before moving on to the next stage.

Teammates who died in the previous stage will respawn and continue to the next stage as well.

The game will end as a Zombie Dinner if the entire squad gets wiped out.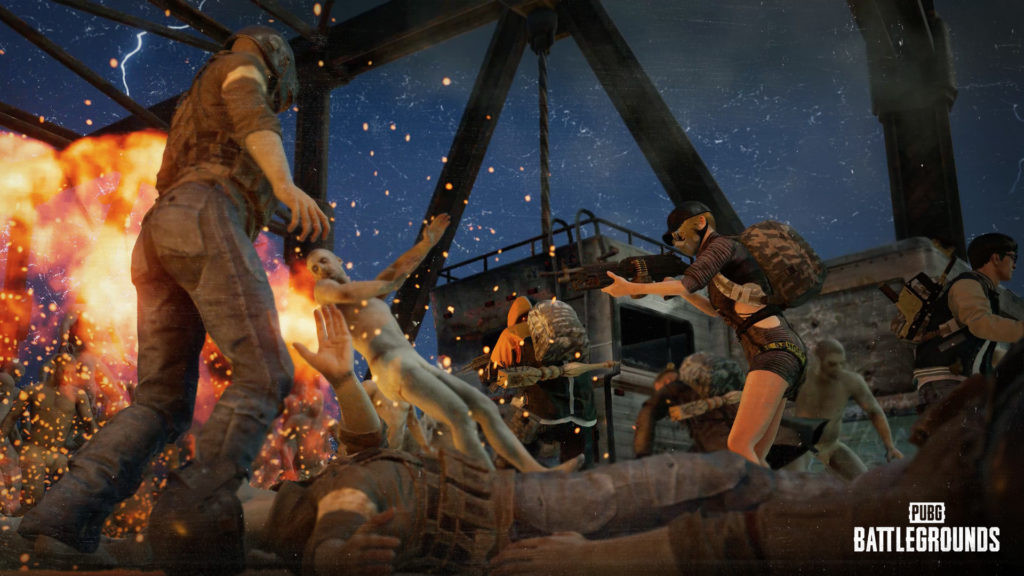 Zombies
Zombies spawn once a stage starts.
As you proceed along the stages, expect more zombies, stronger zombies, and even special types of zombies!
The special zombies in Zombie Survival 2.0 are:

Zombies throwing Molotov Cocktails,
Zombies throwing Blue Zone Grenades,
Zombies holding grenades in their mouths (can only be killed by headshots),
And zombies with C4 attached to their bodies.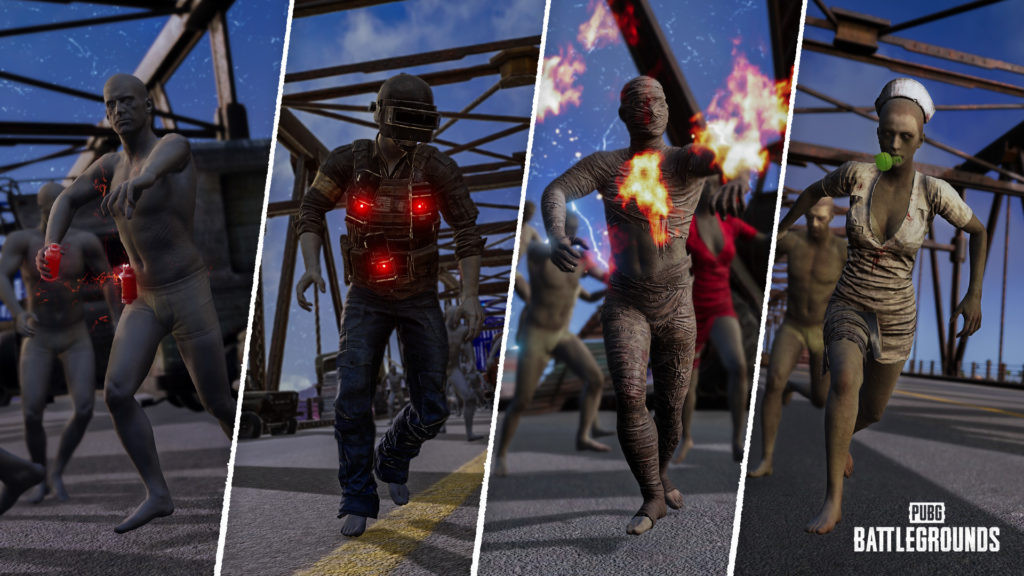 Survival Coins and Equipment/Items
Survival Coins

Earn Survival Coins by taking down zombies.
The Survival Coins are stored in your inventory (Max. 999).
Players cannot drop Survival Coins.
Players who die and respawn for the next stage will have the amount of Survival Coins they had before they died.

Equipment

The basic set of equipment each player starts out with is:

Deagle
60EA .45 ACP
Backpack (Level 3)
1 Grenade
Anti-Zombie Table Leg

You can gain additional Survival Coins when you take down zombies with the Anti-Zombie Table Leg

Purchase various tactical items through your inventory with Survival Coins.
Stronger weapons cost more Survival Coins.

Items

There are tactical items in Zombie Survival 2.0 such as:

Traps to temporarily stop zombies from moving,
Sticky Traps and Sticky Chemicals to temporarily slow down zombies,
Zombie Stun Grenades to stun zombies,
Healing Chemicals to heal you and your team,
Zombie C4, Can Bombs, Zombie Blue Zone Grenades, and Anti-Zombie Chemicals
Scores
Scores are cumulated by taking down zombies.
Check your current score anytime during the game by pressing the world map.
You and your teammates' final scores will be shown after the game.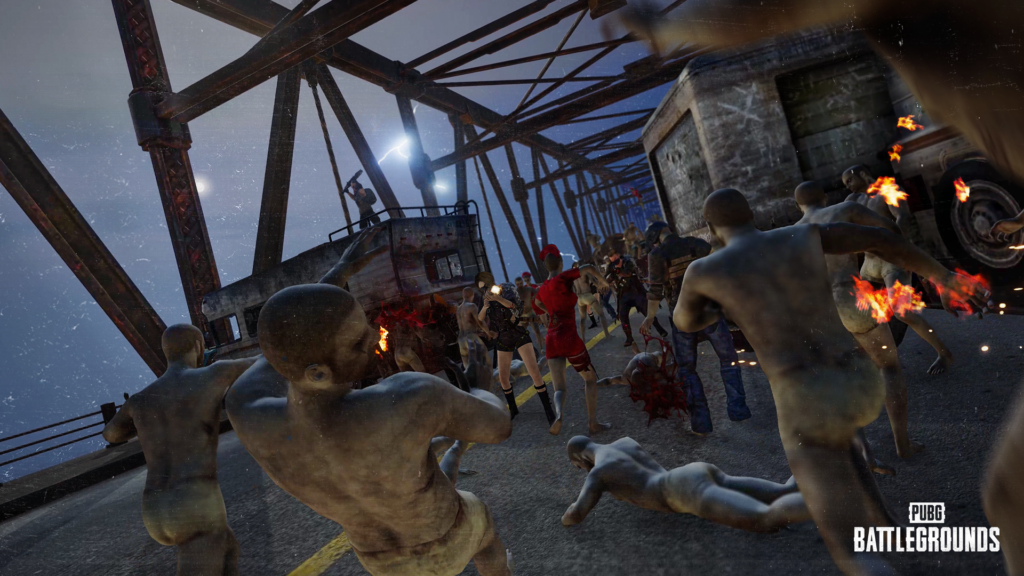 Service Schedule
Zombie Survival 2.0 will run during the following period:
PC

PST: February 14, After live server maintenance – February 27, 4:30 PM
CET: February 15, After live server maintenance – February 28, 1:30 AM
KST: February 15, After live server maintenance – February 28, 9:30 AM

Console

PST: February 22, After live server maintenance – March 7, 8 PM
CET: February 23, After live server maintenance – March 8, 5 AM
KST: February 23, After live server maintenance – March 8, 1 PM
Gameplay Settings
Only Supports TPP
4-Man Squad Only
DBNO Disabled
Teamkill Disabled
Notes When Playing in LABS
LABS games do not provide XP or gameplay rewards.
LABS gameplay will not be reflected on the Career page.
LABS gameplay will not be reflected on Match History.
LABS gameplay does not support replay.
Zombie kills will not count towards BATTLESTAT.
Bug Fixes
The bugs fixed for this year's Zombie Survival 2.0 are as below.
The issue where the player coming in first place is not shown on the spectator's screen
The issue where it says the stage is already cleared when you enter the waiting screen after completing a certain stage
The issue where one can levitate to inaccessible areas from certain areas
The issue where the visual effect is not visible when throwing Sticky Chemicals on the floor
Information on LABS
The current LABS started off as a system in which players can experience various experimental features and modes of PUBG: BATTLEGROUNDS. Until now, we have operated various modes through LABS, but since LABS was originally developed for testing purposes, the current LABS service is limited to only one mode at a time. Therefore, when there is a new LABS mode in service, the previous LABS mode will be closed, which means that Intense Battle Royale mode will not be serviced during the service period of LABS: Zombie Survival 2.0. Intense Battle Royale will, however, return after Zombie Survival 2.0.
The good news is that as many players have been wanting to play Intense Battle Royale in FPP, FPP will be available for Intense Battle Royale in Custom Matches starting this month. LABS and Arcade, both of which currently service modes, will be merged during the second half of this year. The Arcade will then be expanded to service multiple modes simultaneously. We are also considering making Intense Battle Royale available in the Arcade after the reorganization. Stay tuned for the changes since there is a chance we might add FPP to Intense Battle Royale when you see it in the Arcade!
Good luck, don't get bitten, and remember to have fun.
PUBG: BATTLEGROUNDS Team