2023 Global Partner Team Announcement
As a new year of PUBG Esports arise, we are excited to announce our eight founding Global Partner Teams.
We opened applications to the Global Partner Team(GPT) program last December and we were incredibly humbled by the number of entries submitted. After a detailed evaluation and review process, the following teams have been selected as Global Partner Teams for the 2023 season:
Team Selection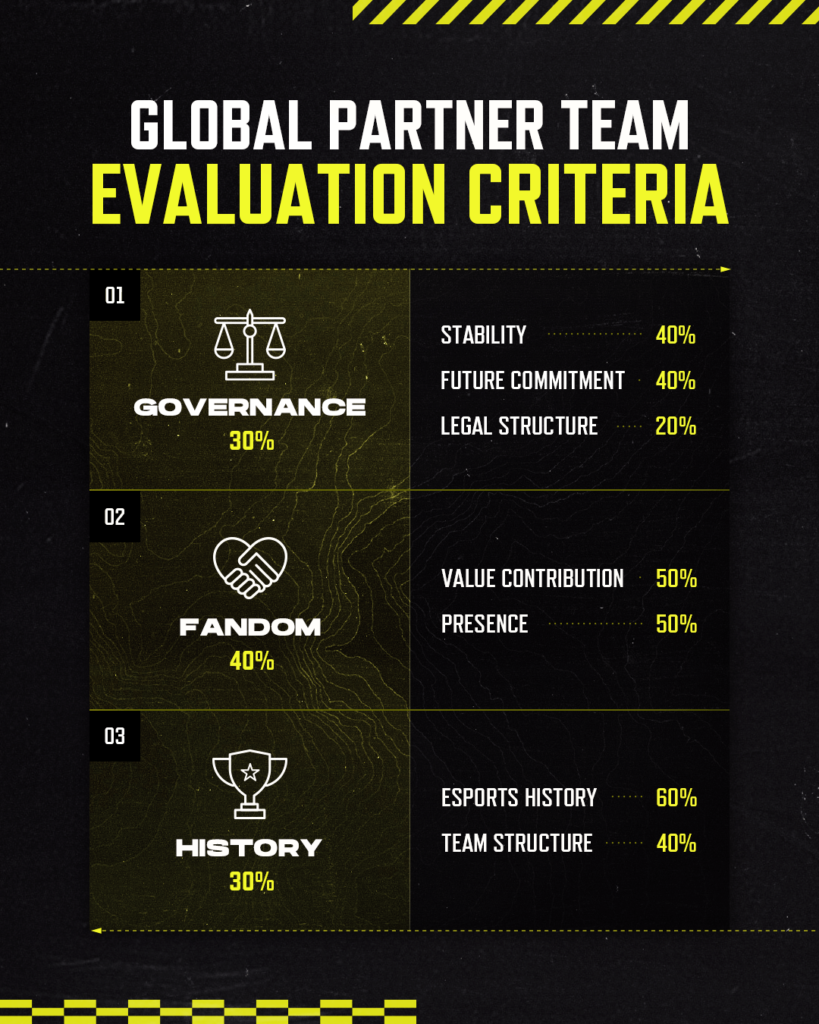 A PUBG Esports evaluation committee was created to review applications, and each submission went through a final check under three major categories: Governance, Fandom and History. An organization's ability and will to participate in the PUBG Esports journey and help to develop an even stronger ecosystem were key factors in the selection methodology. Additional criteria such as past performance in top-tier events was also included.
Without further ado, let's learn a bit more about our new PUBG Esports Global Partner Teams!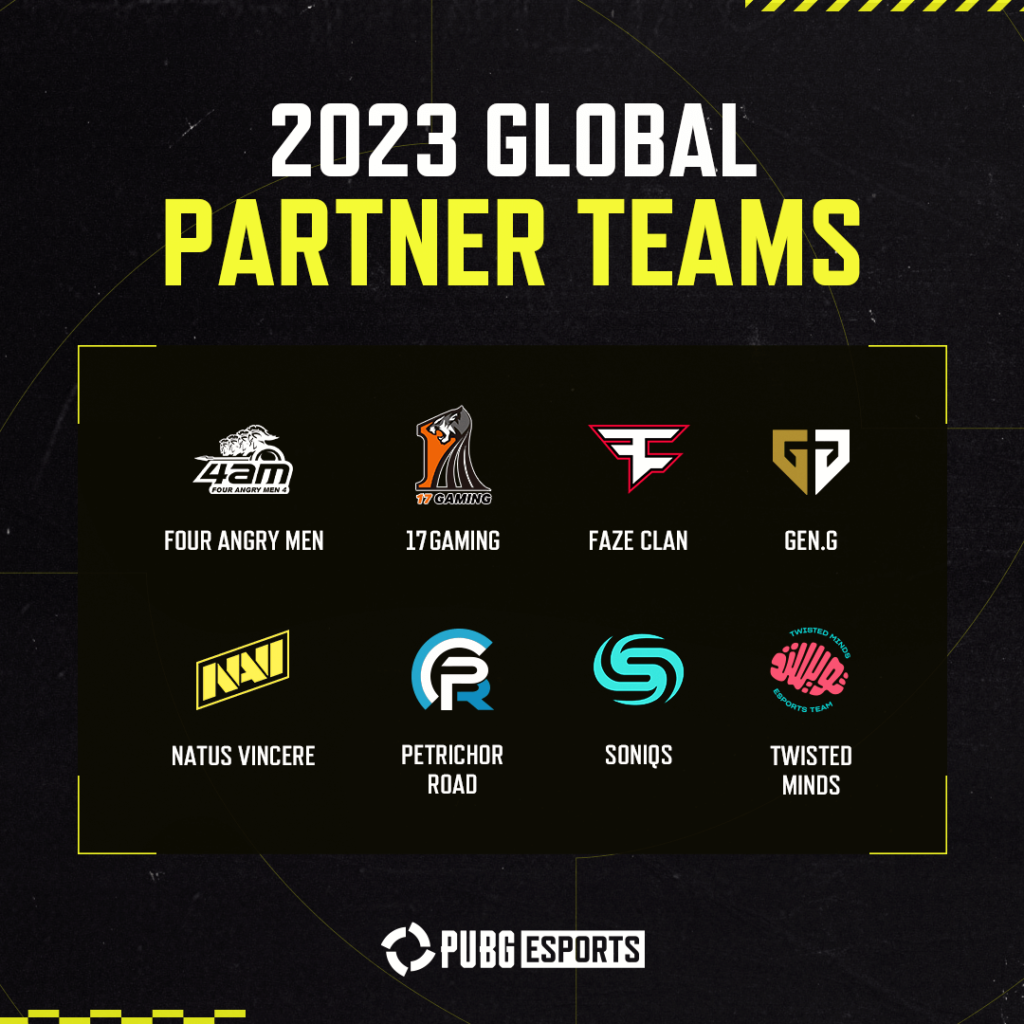 Four Angry Men
'Four Angry Battle-Hardened Veterans'
From 2017 G-star to 2019 PGC, 4AM are a veteran PUBG Esports team with a shining legacy, having won three PCL championships. 4AM continues to gain high popularity both in China and around the globe – and are ready to face off against the best that PUBG Esports has to offer.
17Gaming
'Dedicated To The Cause'
Achieving a phenomenal second place finish in PGC 2022, 17Gaming is another Chinese veteran team that has cemented a very strong legacy. Their pursuit of the World Champion title continues in 2023 as their sole objective will be winning the PUBG Global Championship.
FaZe CLAN
'Veterans Of The Scene'
Embedded in the scene since the beginning, FaZe Clan have a rich and storied history in PUBG Esports. Will the team rise to the occasion and cement a new legacy?
Gen.G
'Pioneers Of The Scene'
As early as 2018, Gen.G was a team to be reckoned with – winning the first major international tournament, PUBG Global Invitational 2018 and the first PUBG Global Championship in 2019. Gen.G continues their journey to take the champion's crown.
Natus Vincere
'Reigning World Champions'
The Reigning PGC World Champions will return to the Battlegrounds in 2023! All eyes will be on this EMEA squads as they attempt to defend their title.
Petrichor Road
'Paving The Road To Champions'
Petrichor Road is a strong team led by superstar player Aixleft. The squad dominated PCS, placing first in PCS4, 5, and 6 consecutively in the Asia region – while never missing the additional special prizes. Will Pertrichor Road achieve its glory once again?
Soniqs
'Americas' Powerhouse'
The five time PCS Americas champions have been a mainstay since the inception of PUBG Esports. Loaded with firepower across the roster, Soniqs took home the PGI.S trophy and are looking for more global hardware to bring back to the Americas!
Twisted Minds
'Titans Of EMEA'
Twisted Minds broke onto the scene last year with a phenomenal third place finish in PGC 2022. With teams competing across a wide range of esports titles and with one of PUBG's strongest squads on their side, Twisted Minds will be a force to be reckoned with in 2023!
With so much talent throughout these rosters, we can't wait to see them head to the battleground for PGS1 this year! But if your favorite squad is not listed among the Global Partner Teams, don't worry. Regional events in Asia, Americas, APAC and EMEA will offer top squads from around the world the opportunity to qualify for the year's biggest events, so stay tuned for more details coming soon.
Congratulations to the new PUBG Esports 2023 Global Partner Teams and our greatest thank you to all the teams that showed interest in our new GPT program.