PUBG Recap - YOUR 2022
Throughout 2022 PUBG: BATTLEGROUNDS players have experienced all kinds of exciting situations which led to skillful plays that are definitely worth remembering.
We'd like to cherish and save these memories we all made together, so we've created a space where you can check your 2022 memorable milestones and achievements on the battlegrounds.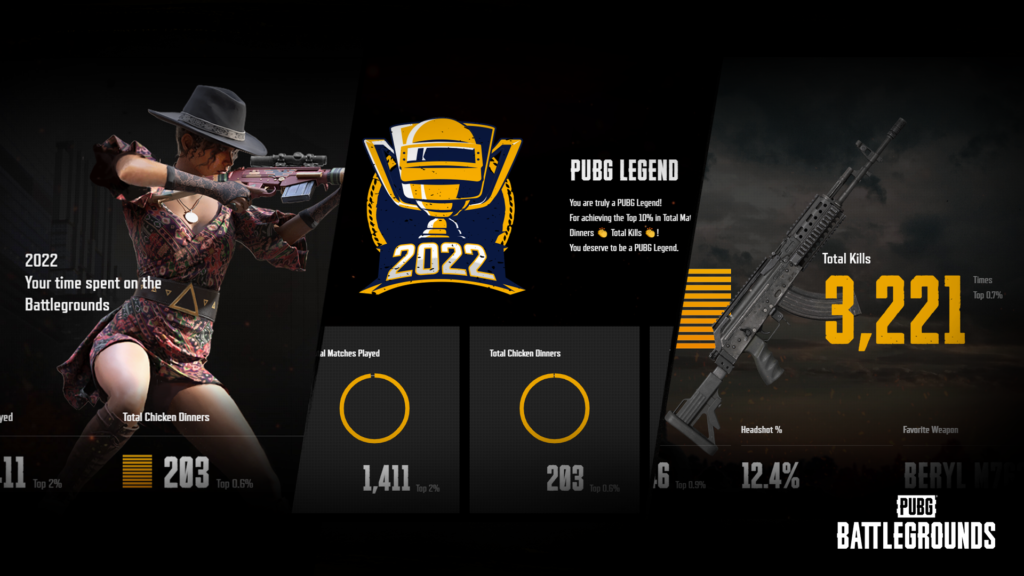 These and many other amusing stats along with a special Reward we have prepared for the PUBG: BATTLEGROUNDS players of 2022 can be checked on the 2022 PUBG: BATTLEGROUNDS Recap space.
2022 Recap – Hashtag Event
Jump on the hype train, share your cool stats with the rest of the PUBG: BATTLEGROUNDS crowd, and get a chance to get your hands on the coolest PUBG: BATTLEGROUNDS merch!
To participate, simply upload a screenshot of your stats from the Recap website above to social media using the required hashtags.
Country
Hashtag
United States & Oceania
#PUBGRewind22
#PUBGRecap
China
#PUBG年终回顾#
#我的2022吃鸡年报#
Korea
#PUBGRecap
#my2022KR
Japan
#PUBGRecap
#PUBG総まとめ2022
Taiwan
#PUBG回顧
#my2022TW
Thailand
#PUBGRecap
#PUBGในปี2022ของฉัน
Vietnam
#PUBG
#PUBGRecap
#my2022VN
#TongketPUBGnam2022
Indonesia
#PUBGRecapID
#my2022ID
Philippines
#PUBGRecapPH
#my2022PH
United Kingdom
France
Italy
Germany
Spain
Poland
#PUBGRecap
#my2022EU
Turkey
#PUBGÖzetim
#Benim2022m
Russia
#PUBGИтоги
#Мой2022RU
Arabic
#PUBGRecap
#my2022AR
LATAM (ES)
#PUBGRecap
#Mi2022LATAM
LATAM (BR)
#PUBGRecap
#Meu2022BR
Check out the detailed instructions down below:
How to Participate
Download the screenshot file of your stats from the Recap website.
Upload the screenshot file to your social media account on one of the following platforms.
Twitter
Instagram
Facebook
Regional platforms
3. Please include the following information along with your entry:
Your PUBG: BATTLEGROUNDS in-game nickname
Your platform (ex. Steam, Xbox, etc.)
Required hashtags: #PUBG #my2022 + Region code (Ex: #PUBG #my2022KR)
Event Rewards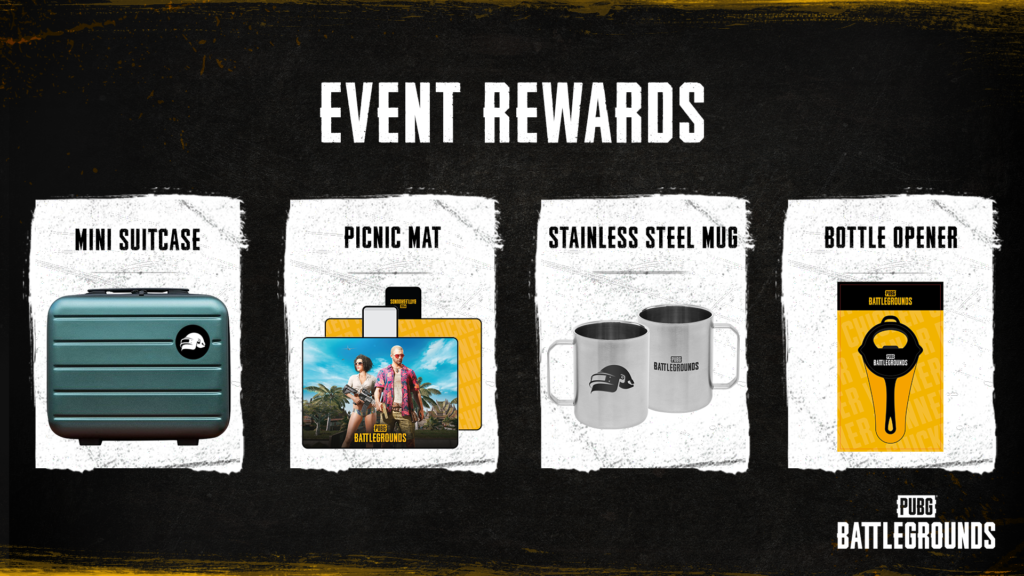 Event Schedule
※ The following dates are subject to change. Updates will be given in the event of date changes.
Event Submission Period
The winners will be chosen only within this time period so make sure to share your screenshots during these dates:
PST: January 15, 4 PM – January 29, 4 PM
CET: January 16, 1 AM – January 30, 1 AM
KST: January 16, 9 AM – January 30, 9 AM
Winners Announcement
Total of 22 Winners.
The winners will be selected randomly.
The Event's winners will be announced in a separate notice on February 15th.

The winner announcement schedule is subject to change. Updates will be given in the event of date changes.
The winners of the Event will be sent a seperate reward guide to the E-mail connected to the Krafton ID.
Important Notes
Krafton ID is necessary to view your 2022 PUBG: BATTLEGROUNDS history.
PUBG recap history can only be checked for the accounts that contain PUBG match history from 2022.
A single PUBG: BATTLEGROUNDS account may participate only once in this event.
Only entries submitted through the provided platforms above (Facebook, Instagram, Twitter, etc.) will be eligible.
For platforms that do not support the verticle format images: the images may need to be edited to ensure your IGN and platform are visible when uploading the stats screenshot as it is required to become a candidate for the PUBG merch goods nomination.
Your social media post is required to be Public (everyone can see it) without any viewer restrictions during the event period and until rewards are granted.
Participants who submit screenshots/videos that are not their own will be immediately disqualified and have their rewards withdrawn even after receival.
We advise you to not change your PUBG: BATTLEGROUNDS nickname after participating in this event as there may be difficulties during the process of granting your reward(s).
Your screenshots/videos may be used in KRAFTON and/or PUBG: BATTLEGROUNDS' official channels.

Therefore, please hold on to your original files as we may ask for them later on!

The winners' announcement on our official homepage and community pages may include your social media link/nickname/content.
The winners' screenshots/videos can be used by the company for promotional purposes, and the screenshots/videos may be transformed freely during the process.