PCS7 Grand Final Preview: Americas
The final stage of the PUBG Continental Series 7 is here. Sixteen teams remain after dozens of others were eliminated through Open Qualifiers, Regional Playoffs, and the Last Chance Qualifier. One team will secure their spot in the PUBG Global Championship once the action is behind us.
The PCS7 Grand Final will be played out over two weekends between Sept. 16th and 25th. The sixteen remaining teams, eight from Latin America and eight from North America will fight it out over the course of 30 matches for a piece of the $250,000 prize pool. All teams will also get a chunk of PGC points.
It'll be a battle of familiar faces as teams that have clashed all year will be taken to Erangel and Miramar once again for a chance at becoming the best competitive PUBG squad in the Americas.
Looking back at the PCS7
Teams have already fought through multiple stages of the PCS7. No teams from the Open Qualifier are still in play, but squads who qualified through their performance in ESL Masters: Phase 2 fought through a Regional Playoff and Last Chance Qualifier.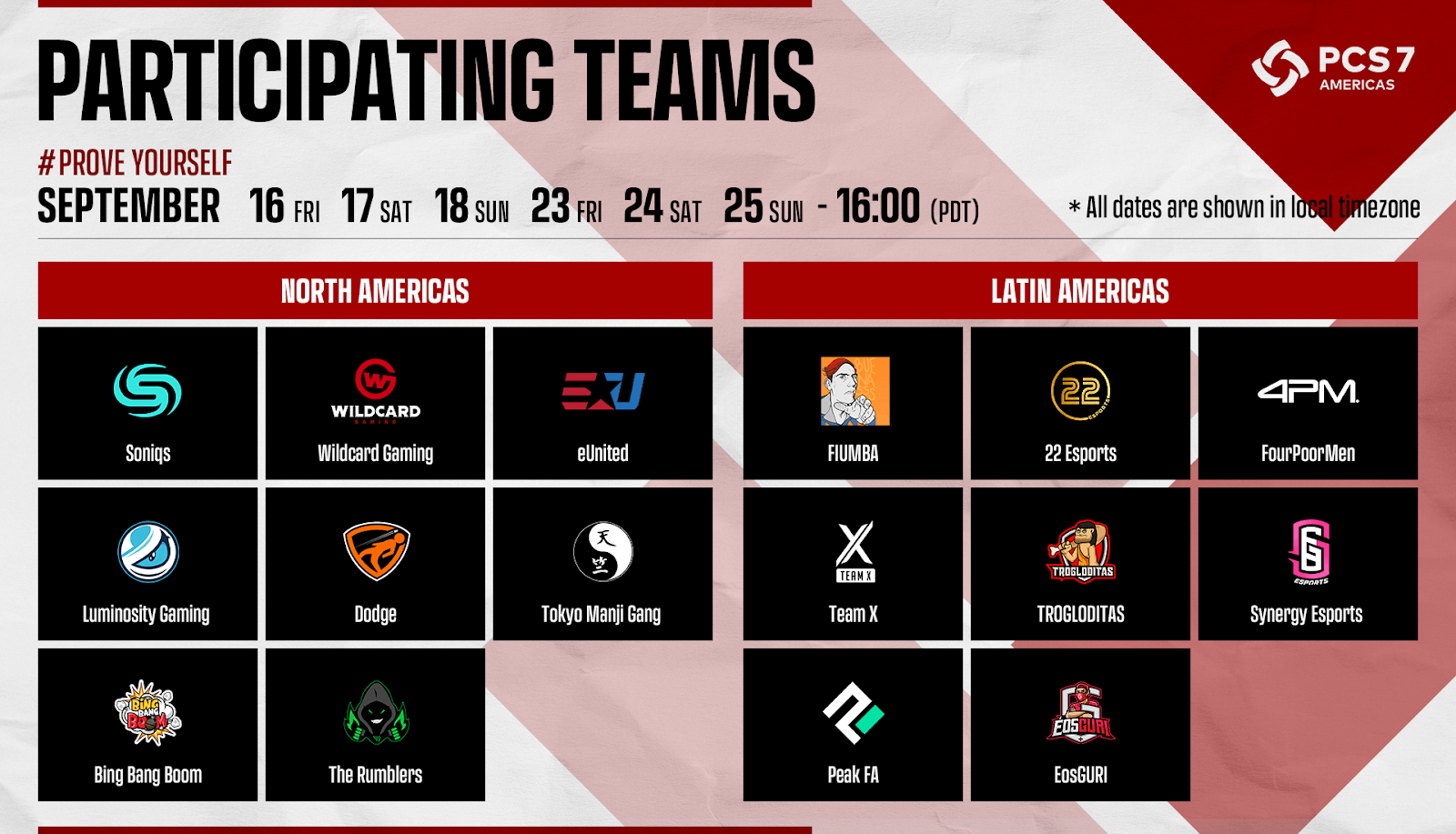 North and South Regional Playoff
The favorites are clear – Soniqs, Wildcard Gaming, FIUMBA and eUnited – after these four teams topped the leaderboards in the Regional Playoffs.
Soniqs, a team that has dominated this space for years, has done so once again by finishing the North American Regional Playoff with a 48 point lead. This team has finished first in every PUBG Continental Series except for PCS1 and PCS5. Tristan "Shrimzy" Nowicki and company still finished within the top three in those two tournaments.
There is no doubt that a target will be painted on their backs, but we'll see if any other team can actually take them out this time around.
FIUMBA, who had the same type of performance in the Latin American Regional Playoff, could finally get over the hump and make Argentina proud this month. This team has had sporadic performances over the past couple of years, but have been on an upward trend in 2022. They are Latin America's best chance at glory in the Grand Final.
Last Chance Qualifier
While Bing Bang Boom may have flopped in the Regional Playoff, they were given a second chance during the Last Chance Qualifier. Dylan "Roth" Short and the squad finished with a 20 point lead over everyone else. This squad could be looking for revenge after getting knocked down a peg earlier in the tournament.
Peak FA, an unsigned team from Brazil, also surprised by climbing out of the Last Chance Qualifier over teams like YAHO. These Brazilians finished in second with 95 points and another chance to surprise in the Grand Final.
How to Watch
The Grand Final will take place from Sept. 16 to 25. The first of 30 matches will kick off at 4:00 p.m. PDT. All the Grand Final action will be broadcast on the official PUBG Twitch channel. PCS7 is one of the final competitive PUBG tournaments of the year.