Dev Letter: Animation Refresh
Today, we're showing off the animation refresh coming soon to PUBG: BATTLEGROUNDS. We wanted to take the current animations and infuse them with the desperate struggle for survival that PUBG has become known for. The goal is that the intensity and tension that the player feels in every match is also reflected through their avatar.
We understand that longtime players who are already familiar with the existing character animations and movements might be concerned about adapting to the new ones. However, no timings have been altered during this process, and the weapon handling should feel exactly the same. It's more like a fresh coat of paint on your trusty Dacia. It looks new but handles just like you remember.
Again, we focused on minimizing the impact on your gameplay. PUBG: BATTLEGROUNDS' unique gunplay elements remain the same and animations were only altered to improve accuracy, add intensity and weight, and allow it to be expressed in action.
Take a look at the details below!
FPP Motion Refresh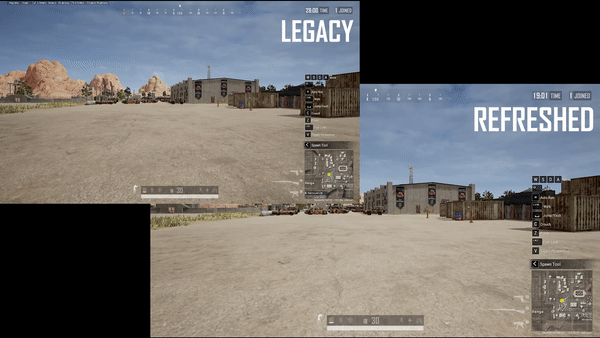 Weapon Animation

Previously, most of the action when handling or reloading a weapon happened off-screen. Reloading a gun allows players to better see the weapons they have skins for and have been working hard to customize, so we made more parts of it visible on the screen. Furthermore, we changed the character's movements to be more aggressive to make them feel more substantial.

Sprint Locomotion

As mentioned in the weapon animation, most of the character's actions were happening off-screen when running with a weapon. Now the weapon's position has been raised to make it more visible. In addition, more intensity has been added to the weapon movement, which we think is more satisfying.
TPP Motion Refresh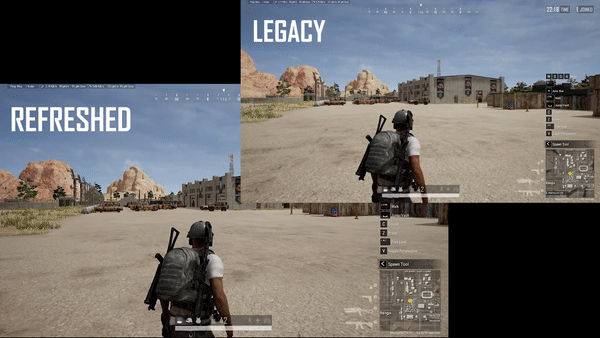 Run and Walk, Start and Stop

The previous character movement was generally stable and consistent but without a convincing transfer of weight to speed. In other words, we had room to add some realistic movements, so we added more weight to the character's actions and made them more visible when changing speed.

Melee Attacks

Prior to the update, the melee attacks had some jitter and were evenly timed. We tried to make it more seamless and natural, and we think this helps make the action look and feel more powerful.
We're always looking for ways we can improve the game without affecting the core feel players have gotten used to, so we hope you're as pleased with these changes as we are. As always, we look forwards to your feedback and we'll see you on the Battlegrounds!
PUBG: BATTLEGROUNDS Team