PGI.S Event Match: Survival Tournament
Hello, PUBG Esports fans!
We're halfway through PGI.S, which means it's time to switch things up for our halftime showdown, the Survival Tournament! A true free-for-all test of each team's combat skills, the Survival Showdown awards points for kills as well as placement, allowing teams more ways to play to their strengths and take home cold hard cash!
Survival Tournament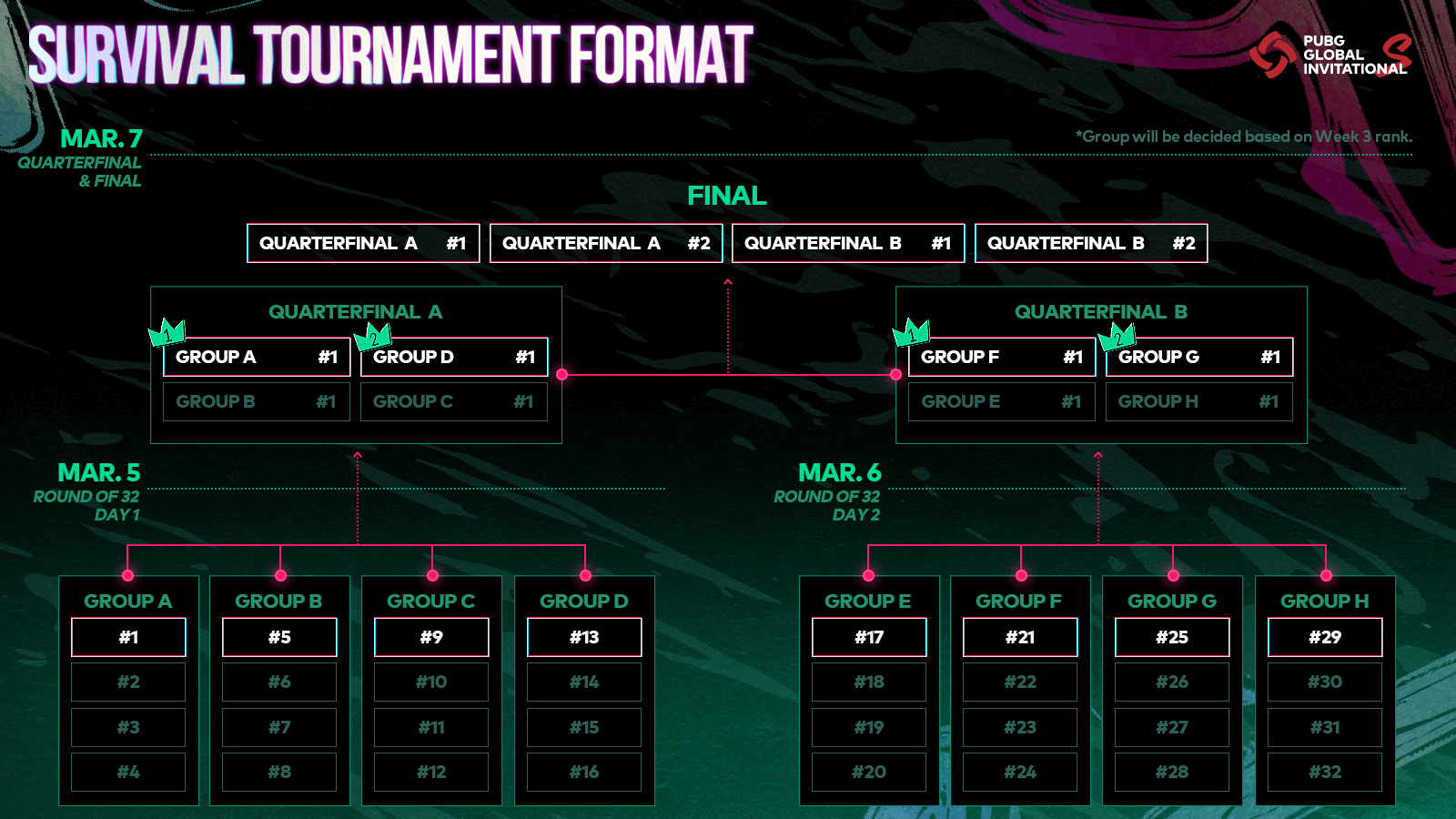 First, teams will be divided into 8 groups based on their current PGI.S standings. These 8 groups of 4 teams each will then battle it out in a tournament format from March 5th - 7th.
Each match will consist of 3 rounds using the familiar SUPER point system, so both placement and kills matter in your overall ranking.
Top teams will receive 10, 6, 5, or 4 placement points
Players will earn an additional point for each kill earned during the match
The team with the highest point total at the end of 3 rounds will win the match.
Match Flow
1.Mar. 5th (Day 1 / Round of 32) - winners of each group will advance to Quarterfinals
- Group Match A
- Group Match B
- Group Match C
- Group Match D
2.Mar. 6th (Day 2 / Round of 32)
- Group Match E
- Group Match F
- Group Match G
- Group Match H
3.Mar. 7th (Day 3 / Quarterfinal & Final)
- Quarterfinal - 1st and 2nd place of each group will advance to the final
- Quarterfinal Group A (Winners of the group match A, B, C, D)
- Quarterfinal Group B (Winners of the group match E, F, G, H )
4.Final
- 1st and 2nd place of Quarterfinal Group A 1st and 2nd place of Quarterfinal Group B
Match Settings
The tournament takes place in TPP on Erangel and has special bluezone timers for shorter and more fast-paced matches.
The first bluezone will have a diameter of 2.5km and will be shown as players begin to fly over the Erangel providing a heads-up to plan their drop.
The overall zone size will shrink to the final circle in fewer phases, resulting in about a 13m match time.
The speed in which the circle shrinks will be enough for players to perform maneuvers. However, it will shrink rather dramatically fast in early 1~2 phases.
There will be no redzones or care packages and bluezone damage will be increased, forcing team to stay on the move and fight in safe areas.
Prize Pool
Survival Tournament will grant teams not only chances to show off their true combat skills but also provide chances to earn extra cashes with the total prize pool of $60,000.
1st : $30,000
2nd : $15,000
3rd : $10,000
4th : $5,000
*Prizing earned from the Survival Tournament doesn't contribute towards the overall PGI.S tournament rankings.
Pick'em Challenge
You can vote on the winner of the Survival Tournament as well!
Voting for this event doesn't require a voting coupon and you can win up to 50,000 EP for choosing correctly, so there's no reason not to try!
Voting closes on Mar 6th 19:00 KST, so make sure you get your votes in early!

PGI.S has plenty of action left to give, so be sure to tune in each day to experience all the fun, win all the prizes, and cheer on the winners!