PCS Europe Charity Showdown: Open Qualifier roundup and Group Stage seeding
Rosters from Europe West, Europe East and MEA clashed for a chance to test themselves at the region's highest level, the PCS Europe Charity Showdown. After some hard-fought battleground action, 14 PUBG rosters secured their places at the PCS Europe Charity Showdown and will now have a shot at the $100,000 USD prize pot. Read on to find out who'll be challenging the region's top teams and take a look at the Group Stage seeding.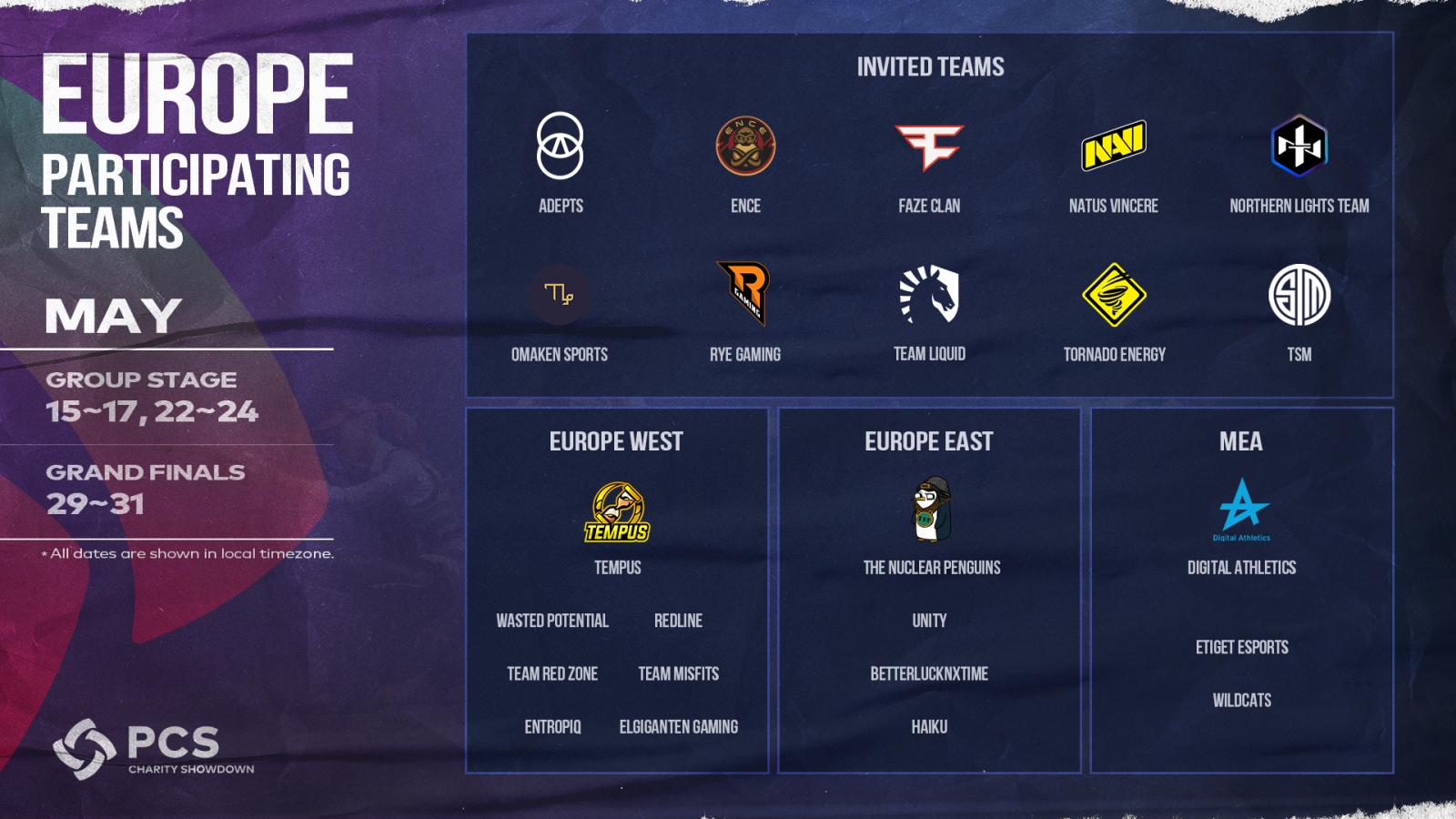 Europe West
Despite a slightly inconsistent start, yoyoing between the top and bottom of the table on Match Day 1, Tempus ultimately showed their quality to take top spot in Europe West.
Led by experienced players TomiL and Wookiebookie, they skillfully navigated the qualifier and laid down their marker for this weekend's PCS Europe Charity Showdown, where they'll be joined by Wasted Potential, Redline, Team Red zone, Team Misfits, ENTROPIQ and Elgiganten Gaming.
Europe East
It was over in Europe East where we saw perhaps the biggest surprise of the qualifier in the form of The Nuclear Penguins. The squad swept away the competition to win the group by a jaw-dropping 43 points, finishing above experienced rosters Team Phantom and POGilaya 4etverka who both failed to qualify.
Unity, BetterLuckNxTime and HAIKU took the remaining three qualification spots, with BetterLuckNxTime topping the kill charts with an impressive 226 frags.
MEA
It was very tight in the MEA Qualifiers, but that's what happens when three of the favorites are playing at the very top of their game. Turkish roster Digital Athletics reigned supreme, dispatching opponents in a relentless fashion that will serve them well at the main event. Hot on their heels were Etiget Esports and Wildcats who finished in second and third place respectively.
Unfortunately, it was a qualifier to forget for Blaze Esports, who would have been confident after making it to the PGS Berlin: Europe Qualifier final earlier this year. Qualification was in touching distance after an impressive display on the final day, but a disappointing performance in the last match left them in fourth place – missing out on the main event by 14 points.
Group Stage Seeding
With all 24 teams locked in for the PCS Europe Charity Showdown Group Stage, it's now time to reveal which squads will make up each group.
Group A
• Natus Vincere
• RYE
• ADEPTS
• Tempus
• Redline
• Team Red zone
• Etiget Esports
• HAIKU
Group B
• Team Liquid
• TSM
• Tornado Energy
• Omaken Sports
• UNITY
• Digital Athletics
• ENTROPIQ
• Elgiganten Gaming
Group C
• FaZe Clan
• ENCE
• Northern Lights
• Team Wasted Potential
• The Nuclear Penguins
• Team Misfits
• BetterLuckNxTime
• Wildcats