GOSU.AI Season 5 Chicken Dinners Miramar & Erangel heatmaps
The creators of the popular training ground from GOSU.AI has shared another portion of their remarkable stats this time displaying the most popular places to grab a chicken dinner on Miramar & Erangel.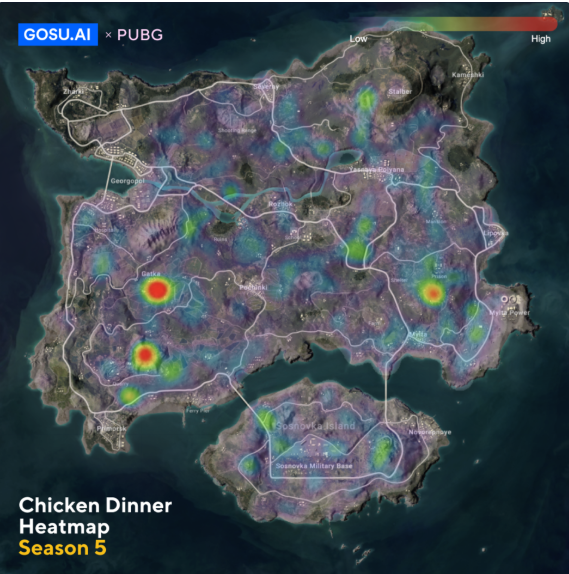 The presented heat map shows that the final zone rarely covers cities along the edges of the map.

As for Sosnovka Island, here the game ends most often at the radio station and on the territory near the Western bridge.

And of course the basic rule of the game is preserved, which says that the zone always leaves the water.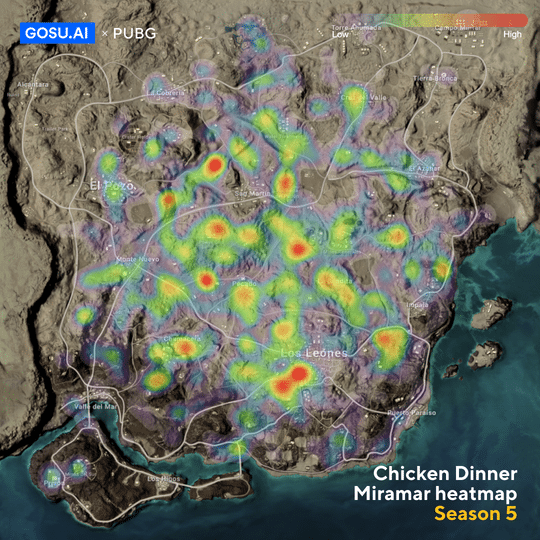 The most popular of these is the southern part of the city of Los Leones and the adjoining buildings to it on the south side, Graveyard, the compound to the west of Pecado and the abandoned village northwest of San Martin.

In general, Miramar maintains balance and variety, approximately the same number of games end in all major compounds of the map and popular places.

Least of all, the final zones are found in the upper left and right corner of Miramar.

Thank God that the islands are still an exception, and the zone is not taken by surprise, while moving in their direction as it was at the LAN tournament GLL Season 3.