GamerLegion Leads at Contenders Finals Midpoint
The PEL Contenders Finals have hit the halfway point while the top 3 teams separate themselves from the pack. Through the first 24 matches, GamerLegion, No Tag Team, and Northern Lights have taken a step ahead with another steady performance during Week 6.
GamerLegion collected ample placement points to pair with 72 Kills through the 15 matches played this week. The team was able to successfully rotate for great positioning, and therefore better placements. Yet, remained aggressive enough to secure those valuable kill points. The leading player for GamerLegion was Christopher "FEXX" Wheddon, who accumulated 20 Kills and 3,181 Damage during Week 6. The team erased their slow start on Monday by placing within the top 5 during seven of the eleven remaining matches. Only two weeks before standings are final, it's hard not to imagine GamerLegion battling for a spot in Phase 3 of the PEL.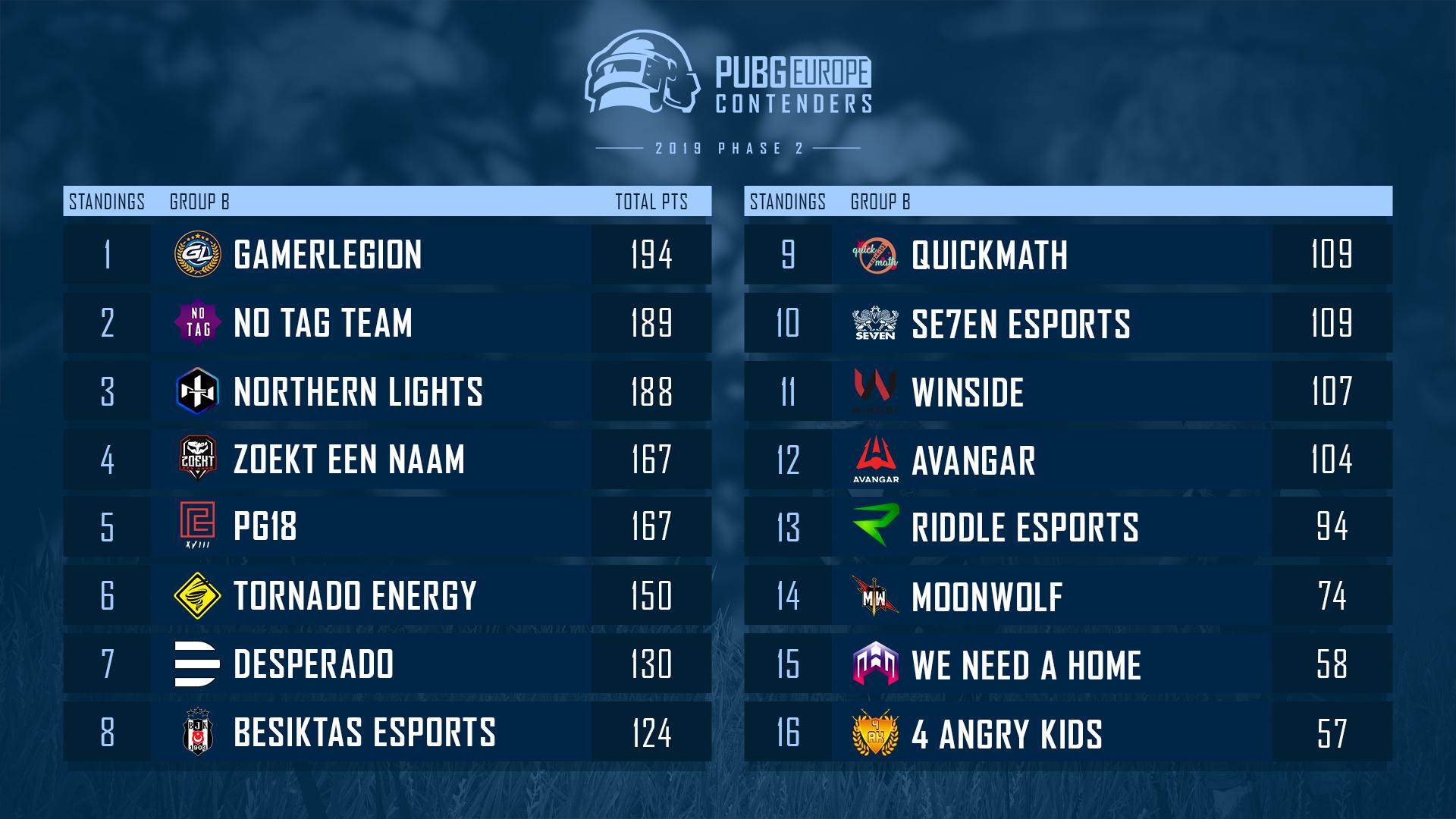 Leading the league during Week 6 in kills was No Tag Team. Currently sitting in second place, the team played consistently from start to finish. Winning two matches with 20+ points each, the team piled up kills while continually receiving placement points. Harris "GIVEIT" Emertziadis contributed 30 kills personally, leading his team and the entire league this week. The team has appeared confident during team engagements, illustrated during a four vs four skirmish with Tornado Energy to win Match 18 on Erangel.
Towards the opposite end of our leaderboard, AVANGAR sits along the cut-off line in twelfth place. Tied with Riddle Esports, both teams are in danger of fumbling their chance to play in the PEL Promo as Moonwolf only trails by a single point. The group of teams surrounding the twelfth and thirteenth places must fight for every point, as only the top 12 teams will advance into PEL Promo.
As we navigate the second half of the Contenders Finals, matches will become increasingly more important for teams each round. The competition returns for Week 7 on Monday, June 24 @ 19:00 CEST.