New ruleset for all PUBG tournaments.
All future ESL Play, Auzom, GLL PUBG tournaments will adopt the universal ruleset developed by fellow tournament organizers. Not only will ESL utilize the points distributions for squad tournaments, they'll additionally modify our duo and solo tournaments with the same distribution. Read on for more changes to the game settings as well!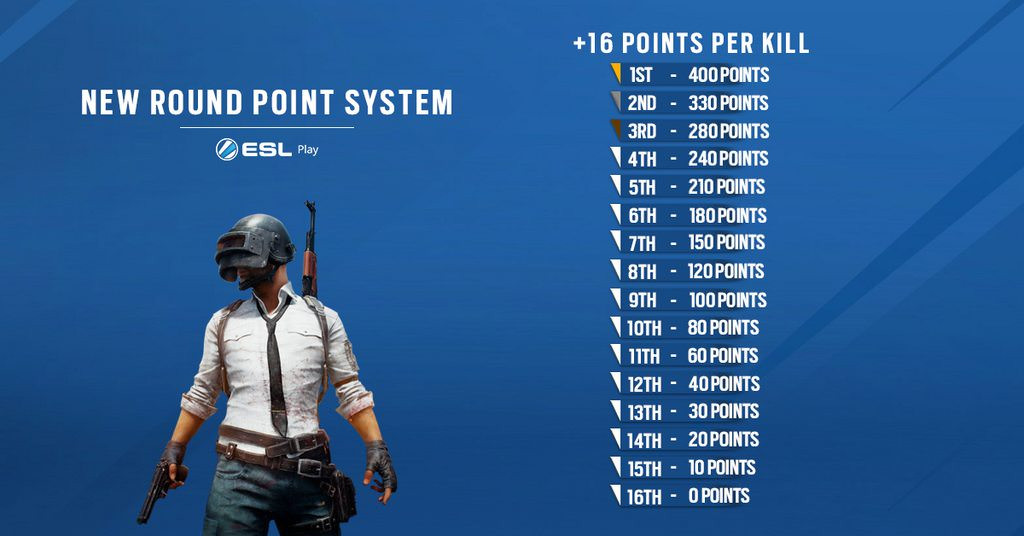 From now on all of our tournaments on Erangel and Miramar will employ the following ruleset:
---
Esports mode

FPP - 16 teams(Squad)
FPP - 32 teams(Duo)
FPP - 64 player(Solo)
Red Zones off
Flare Gun care package off

Spawns:
Sniper Rifles 1,3x
DMR 1,3x
AR 1,5x

Flareguns 0x

All other loot settings will be left as default.
---
The new custom circle settings are: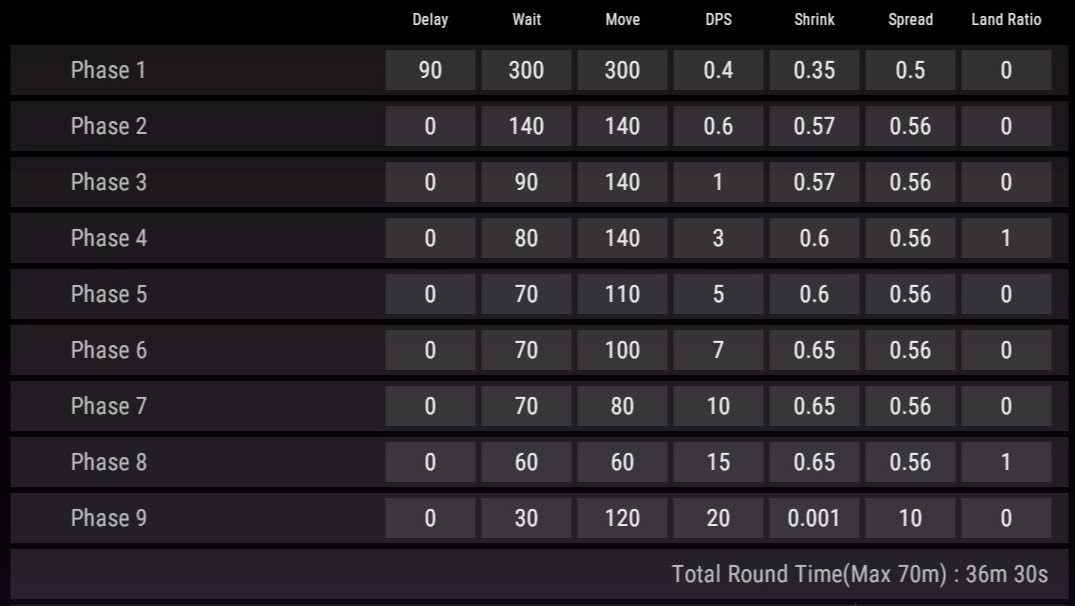 Specific point distributions
Each kill is worth 16 points in all modes. Placement points are visible in the tables below:
Squads:
Placement
Points
#1
400
#2
330
#3
280
#4
240
#5
210
#6
180
#7
150
#8
120
#9
100
#10
80
#11
60
#12
40
#13
30
#14
20
#15
10
#16
Duos:
Placement
Points
#1
400
#2
365
#3
337
#4
313
#5
294
#6
273
#7
250
#8
225
#9
202
#10
181
#11
162
#12
144
#13
127
#14
111
#15
97
#16
84
#17
72
#18
61
#19
51
#20
42
#21
34
#22
27
#23
21
#24
16
#25
12
#26
9
#27
6
#28
4
#29
3
#30
2
#31
1
#32
Solos:
Placement
Points
#1
400
#2
383
#3
368
#4
355
#5
344
#6
332
#7
318
#8
302
#9
287
#10
273
#11
259
#12
246
#13
233
#14
221
#15
209
#16
198
#17
188
#18
178
#19
169
#20
160
#21
151
#22
143
#23
135
#24
127
#25
119
#26
111
#27
104
#28
97
#29
90
#30
84
#31
78
#32
72
#33
66
#34
61
#35
56
#36
51
#37
47
#38
43
#39
39
#40
36
#41
33
#42
30
#43
28
#44
26
#45
24
#46
22
#47
20
#48
18
#49
16
#50
14
#51
13
#52
12
#53
11
#54
10
#55
9
#56
8
#57
7
#58
6
#59
5
#60
4
#61
3
#62
2
#63
1
#64