Drainys: "I am sorry that I'm good at the game"
Na`Vi squad player Sviatoslav "Drainys" Komissarov have complained on PlayerUnknown's Battlegrounds team that they didn't allow him to participate in the streamer tournament which PUBG Corp. plans to perform in association with Twitch. They have motivated this decision referring that Drainys is a professional player.
---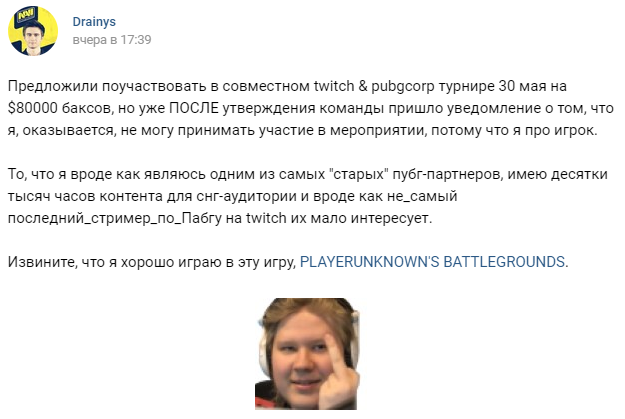 ---
They proposed me to take part in twitch & PUBG Corp. tournament May 30 with $80 000 prize-pool, and then after confirming the team I received a notification that I can't take part in it as soon as I am a pro player.

The fact that I am one of the "oldest" PUBG partners and have thousands hours of content for CIS audience and I_am_not_the_last_PUBG_streamer doesn't interest them at all.

I am sorry that I'm good at the game @PUBG
The tournament he mentioned have not yet been announced. And the fact he have spoken to the devs (even only to the CIS representatives) displays that he would doubtably have any invites after he retires from a pro scene.