Dev Letter: Fortifying the Authentication System for Ranked
Background
The SMS authentication system, implemented alongside the launch of Ranked in May 2021, mandated all players to confirm their mobile numbers as a measure against cheating in Ranked. Simultaneously, we prevented the reuse of mobile numbers previously used for SMS authentication on permanently banned accounts with respect to other accounts.
However, PUBG team internal analysis based on various data sources revealed that cheaters in some regions were exploiting proxy authentication techniques to access Ranked. Consequently, we recognized that the current SMS authentication system was insufficient to deter cheaters from re-entering Ranked.
In light of this, the PUBG: BATTLEGROUNDS Anti-Cheat Team is set to enhance the authentication system for Ranked. This enhancement to combat proxy authentication more effectively will involve 1) introducing ARS authentication and 2) requiring re-authentication with the same number.
It's important to note that these changes won't be universally applied. Instead, they will be selectively employed in cases deemed necessary to uphold a fair gaming environment and safeguard player accounts.
Further details are provided below.
Changes
Authentication System
The following changes apply to accounts subject to the new authentication system.

We may request ARS authentication instead of the former SMS authentication.

ARS authentication involves providing players with a PIN code over a phone call.

Accounts previously authenticated for Ranked can still be requested to re-authenticate via ARS, which must be completed before they can play Ranked.
Re-authentication can only be completed using the mobile number you used for your prior authentication.

If you try to authenticate with a new number, you will not be able to proceed.
Target Accounts
Suspected compromised accounts
Accounts returning after a long period of inactivity
Accounts that the system determines need re-authentication.
※ Furthermore, we will take into account other conditions that we consider vital for safeguarding your account, including alterations in your PC or connection region.
FAQ
Q. I'm not receiving a phone call that delivers a PIN code.
A. Firstly, please check if you have entered your mobile number correctly. If you have entered your number correctly, the outgoing ARS authentication number may have been blocked. In this case, please review the list of blocked numbers and proceed to unblock the number before trying the authentication process again.

Q. I was asked to authenticate with the number I used in the past, but I have changed/lost that number and can no longer use it. Will I no longer be able to play Ranked on this account?
A. In case you cannot use your previous mobile number for authentication, don't hesitate to reach out to PUBG Support for assistance. When contacting us, please provide a screenshot of the ARS authentication message shown in the example below, along with your account information. After reviewing the information, we will assist you in authenticating your new number for Ranked.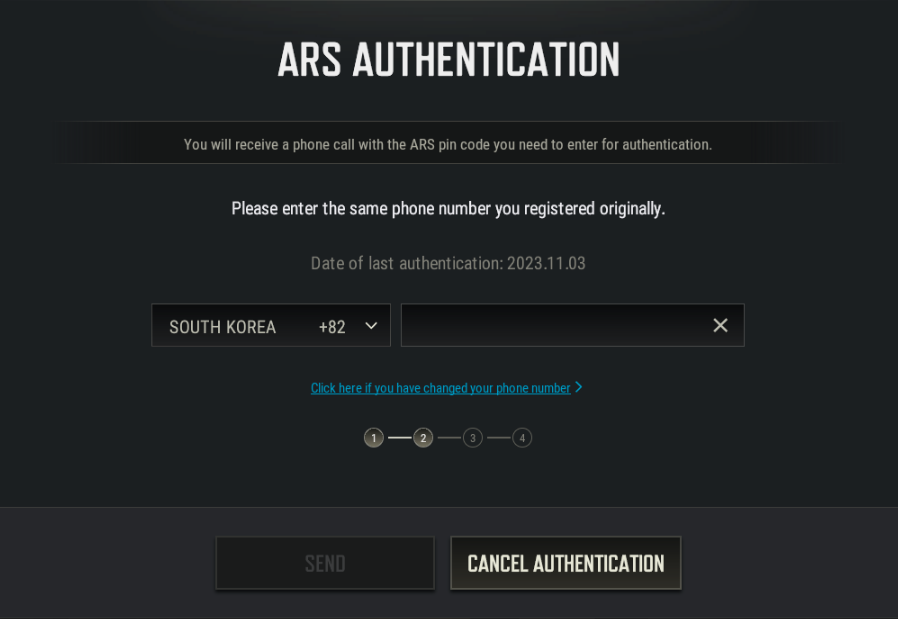 Strengthening the Ranked authentication system is just one step in our ongoing efforts. PUBG team commitment to creating a fairer gaming environment extends to continuous improvements and measures. Meanwhile, we will keep you informed about any future Anti-Cheat plans or changes. See you in the next Dev Letter.