Twitch Rivals: PUBG 6th Anniversary Throwdown
Get ready to celebrate the 6th Anniversary of PUBG: BATTLEGROUNDS with your favorite streamers, who will compete across 6 high-stakes games for a share of the $60,000 prize pool!
Mark your calendars for Twitch Rivals: PUBG 6th Anniversary Throwdown on March 21st at 6 PM CET and earn six in-game items as you watch to expand your PUBG collection.
MEET WITH THE TEAM CAPTAINS
DanucD
KayzahR
NoWay4U_Sir
Chowh1
Moonryde
Donkaaklijn
WackyJacky101
Fuzzface49
xxxTheFocusxxx
Mithrain
OfficialAndyPyro
GaGod
Which team captain are you cheering for? Share your thoughts using #TwitchRivalsPUBG hashtag and be a part of the hype train!
TWITCH DROPS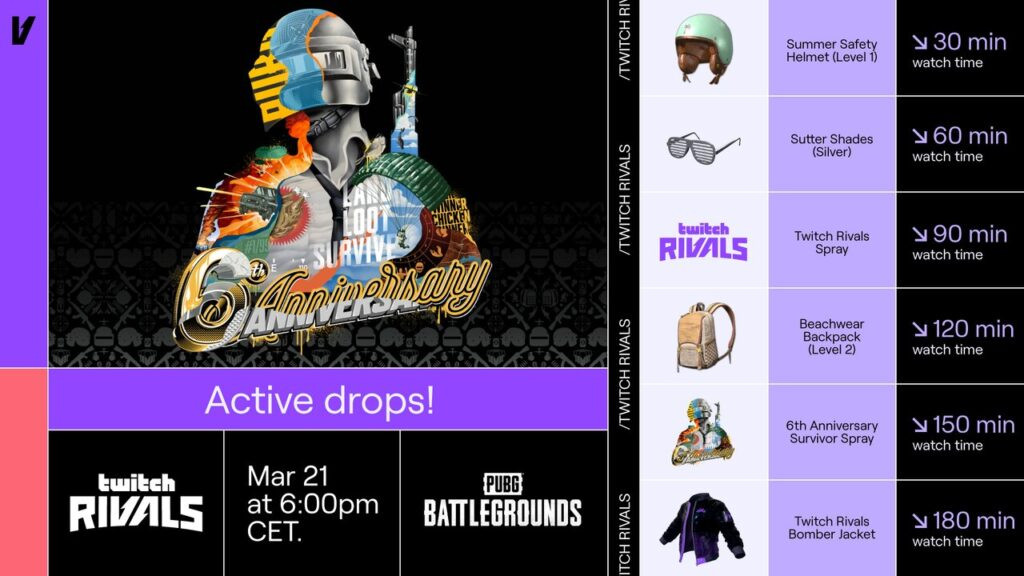 Follow these steps to be eligible for Twitch Drops!
Login or create your Krafton ID, link your platform (Steam or console) and your Twitch account
Watch eligible streams for 30, 60, 90, 120, 150 and 180 minutes to unlock each item per watch condition
Claim your reward on Twitch (https://www.twitch.tv/drops/inventory) to unlock the reward in PUBG
Open the game client to officially retrieve your reward(s)
FAQ
Which streams do I need to watch to get drops?
Twitch Rivals, team captain channels and all participating streamers with Drops enabled tag will count towards earning drops. All active campaigns and their conditions can always be seen on this Twitch page.
How can I check my progress towards the next drop?
You can track your progress on the Twitch Drops Inventory page.
Can I earn drops faster by watching more than one channel at a time?
No, you will only be eligible to receive a drop for one active channel at a time. Watching more than one channel simultaneously will not result in more drops.