PUBG Esports Tournament Calendar Update
Road to PGC 2023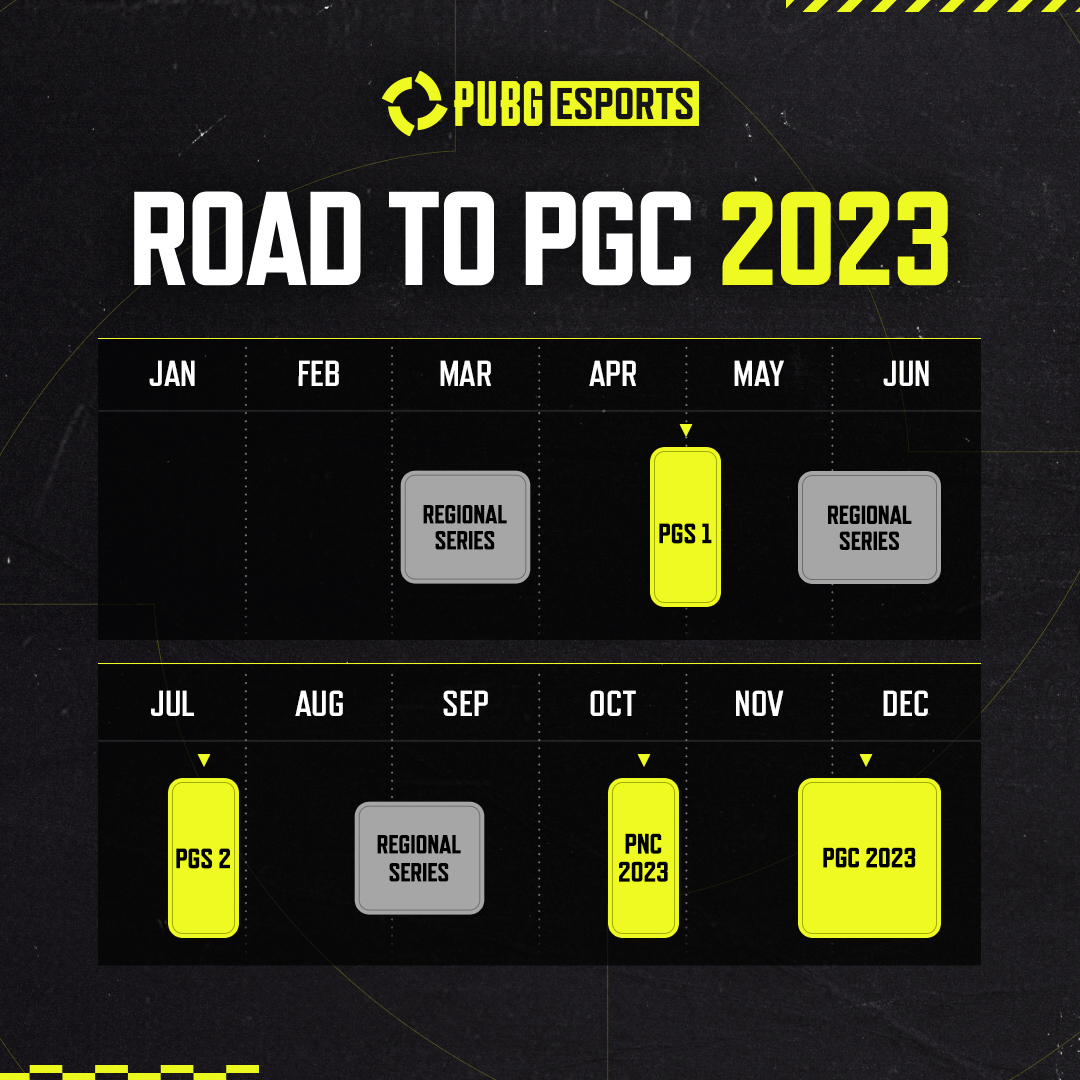 PUBG Global Series
PUBG Esports will host a total of four major global events in 2023, with PUBG Global Series 1 (PGS1) being our first global event of the year. The PGS is PUBG Esports' new global offline competition with a total of 24 teams from around the world participating. This includes our new Global Partner Teams who will receive direct invitations to the tournament.

The 24 slots to the PUBG Global Series: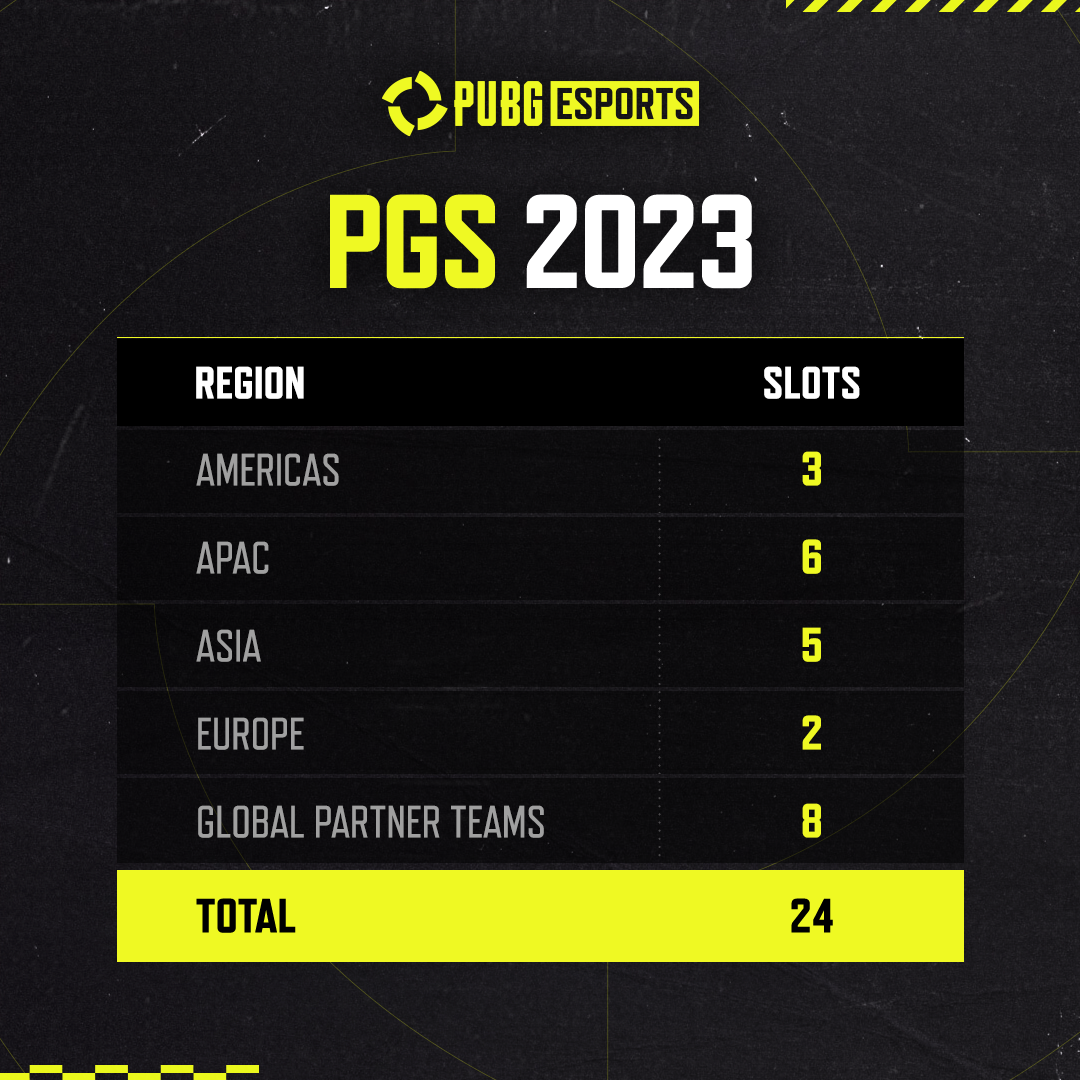 *Chinese Taipei, Japan relocated to the APAC region.

Distribution of regional PGS slots will be determined by the outcome of regional tournaments and leagues. Stay tuned to local channels for more details!
PUBG Global Championship 2023
PUBG Esports' most prestigious tournament - the PUBG Global Championship (PGC) - will be the grand finale of the year. Teams can qualify to PGC by placing in the top spots across both PGS tournaments, or by gaining enough PGC Points from regional tournaments.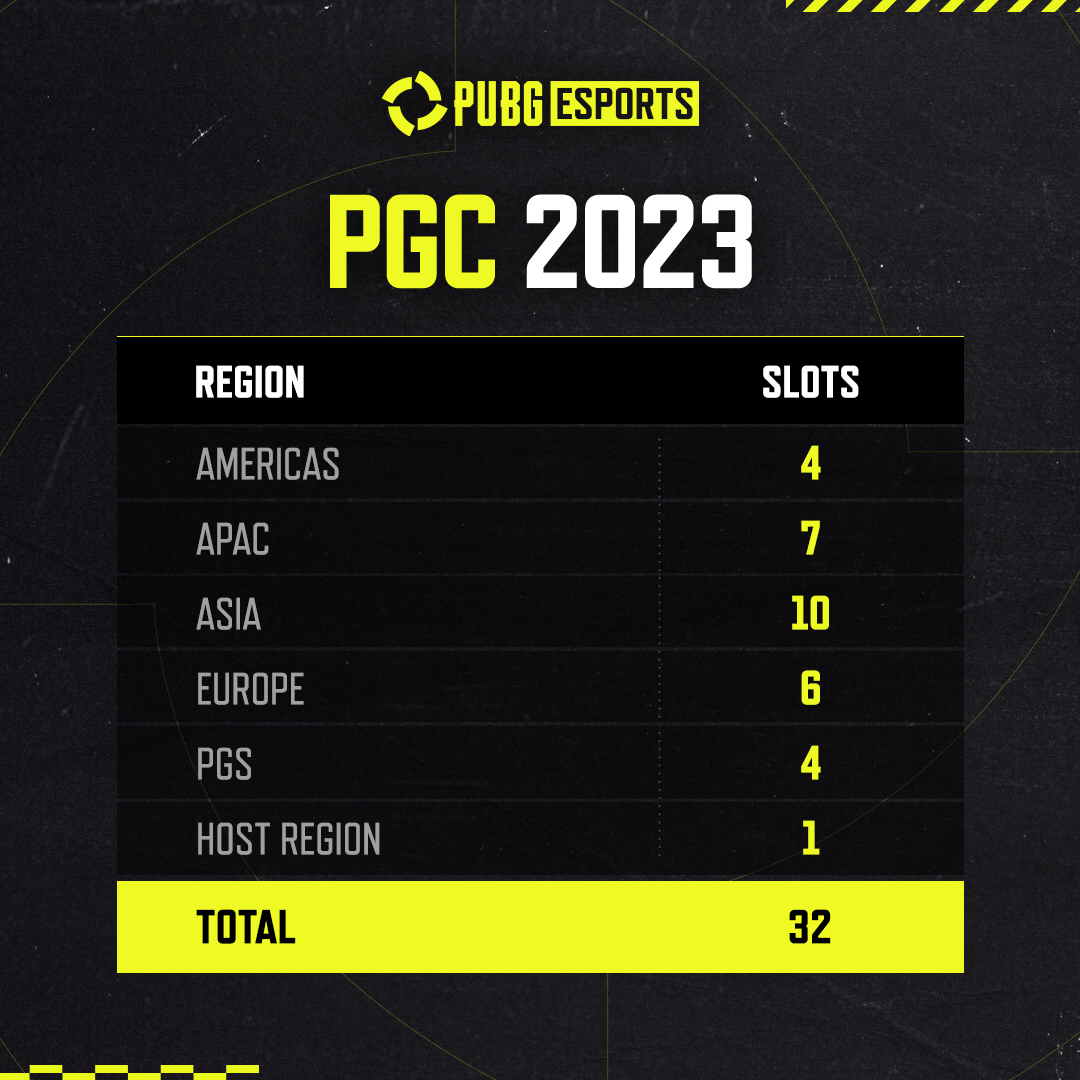 *Chinese Taipei, Japan relocated to the APAC region.

In total, 32 teams will qualify for the PUBG Global Championship 2023. As in previous years, each PUBG Esports region will be allocated a number of qualification slots at PGC 2023
AMERICAS (North & Latin America) : 4 slots
APAC (South East Asia, Chinese Taipei, Japan, OCE) : 7 slots
ASIA (China, Korea) : 10 slots
EUROPE (Europe, Middle East, Africa) : 6 slots
PGS : 4 slots
Host Country : 1 slot
We will be having a slight update to the available slots in this season with 1 slot granted directly to the host region country. In addition to this, the top 4 teams based on the results from both PGS1&2 combined will also be granted a slot at PGC 2023.
*If a team granted with a PGC slot at PGS acquires another slot at their regional series, the next team in rank at the team's regional series will be granted

PUBG Nations Cup
The fan-favorite PUBG Nations Cup will make its return in 2023! However, we will be waiting for its return a little longer since it has been slightly pushed back to this Fall.
Teams from the strongest PUBG nations will face off against each other to decide the number one country! Will the reigning champions - United Kingdom - stand their ground and reclaim their crown? Find out this October!
S.U.P.E.R Update - Stay Tuned!

As we have stated in our previous announcement, we are moving towards narrowing the gap between Ranked mode and Esports.
As a small first step, we are updating our super ruleset to v3.0.5, introducing two new weapons (MK12 & ACE32) to all official PUBG Esports tournaments.
The new season of PUBG Esports is starting to kick off! Stay tuned to your regional PUBG Esports channel to watch your favorite teams as they begin their journey to victory!