PUBG Americas Series Phase 1 Reveal
The PUBG Esports 2022 season was a success across the board and offered both highs and lows for the Americas teams. Within the four regional esports events, powerhouse NA teams continued their streak of dominance. eUnited won both ESL PUBG Masters events while Soniqs took home the PCS6 and PCS7 Americas Championships.
The return of the fan favorite PUBG Nations Cup (PNC) resulted in Team Brasil surprising the field and winning the fans' hearts with a third place finish, showing that LATAM is a region to be feared.
PGC 2022 was a coin flip for Americas teams with 3 of them finishing in the bottom 16 and 3 in the top 16, while eUnited leading the way with a strong 4th place finish.
The 2023 season will see a shift in strategy, as we move away from 2022's online regional model back towards a global off-line system. This post will highlight our plans for the Americas region this year, building off the recent global PUBG Esports announcement.
What to expect in 2023
In 2023, we're introducing new regional events, the PUBG Americas Series (PAS). Phase 1 will kick off in March 2023 and Phase 2 is scheduled for later in 2023. Phase 1 will qualify teams for the PUBG Global Series 1, to be organized in April. These regional events will award over $100,000 in prize money along with the highly-coveted PGC Qualification Points that will determine which teams from the Americas region will qualify for the 2023 PUBG Global Championship in November. Teams will also get a chance to earn PGC Points through an additional event to be announced later.
But that's not all, PUBG Nations Cup is coming back in 2023! More details on these events will follow soon, but keep reading to find out more specifics on the PAS1 and how to register!
PUBG Americas Series Phase 1
The PUBG Americas Series Phase 1 will kick off on February 25th with the Phase 1 Open Qualifiers. In addition to PGC Points, PAS1 will award $100k+ in prize money. Teams will also be competing for a chance to qualify for PGS. Teams can qualify by registering here.
The PUBG Americas Series will be broken down into Open Qualifiers, Regional Playoffs, and the Grand Final.
The Open Qualifiers will be held separately for each sub-region (NA & LATAM) and support up to 160 teams. Each round will last 2 days with 6 matches each day (12 total matches per round). Depending on the total number of registered teams, there will be 3 or 4 rounds total. If 4 rounds are needed, the Round of 128 and Round of 64 will each be 1 day of 6 matches. The Round of 32 and Round of 16 will be 2 days of 6 matches each day regardless of the number of registered teams.
Dates for Open Qualifiers:
Round 1 (up to 160 teams)- February 25th & 26th

Incase of needing a Round of 128:

Round of 128 – February 25th
Round of 64 – February 26th

Round 2 (32 teams) – March 1st & 2nd
Round 3 (16 teams)- March 4th & 5th
Click here to register your team!
Upon completion of Round 3, the top 8 teams from each sub-region will move to their respective Regional Playoff. There, they will find themselves competing against 8 teams who have been invited based on their performance at PCS7 Americas. If, for any reason, an invited team does not meet eligibility, roster requirements, or any other rules set out in the Rulebook, that team will be replaced by the next best team from the Round of 16 that meets the requirements.
The Regional Playoff will be a two-day, 16 team stage with 6 matches per day held on March 11th & 12th. Teams will be scored on a cumulative leaderboard with the top 8 teams from the NA Regional Playoff leaderboard and top 8 teams from the LATAM Regional Playoff leaderboard moving on to the PAS1 Grand Final.
Once the final 16 teams are set, they will battle it out over the course of a three-day period (March 24th-26th) consisting of 5 matches per day (15 matches total). The Grand Final will determine who will claim their share of the prize money and those all-important PGC Qualification Points. The top placing team from the Grand Final will also qualify for PGS1, to be held in April 2023. Keep an eye out for an upcoming Global Announcement for more information on PGS1 Qualification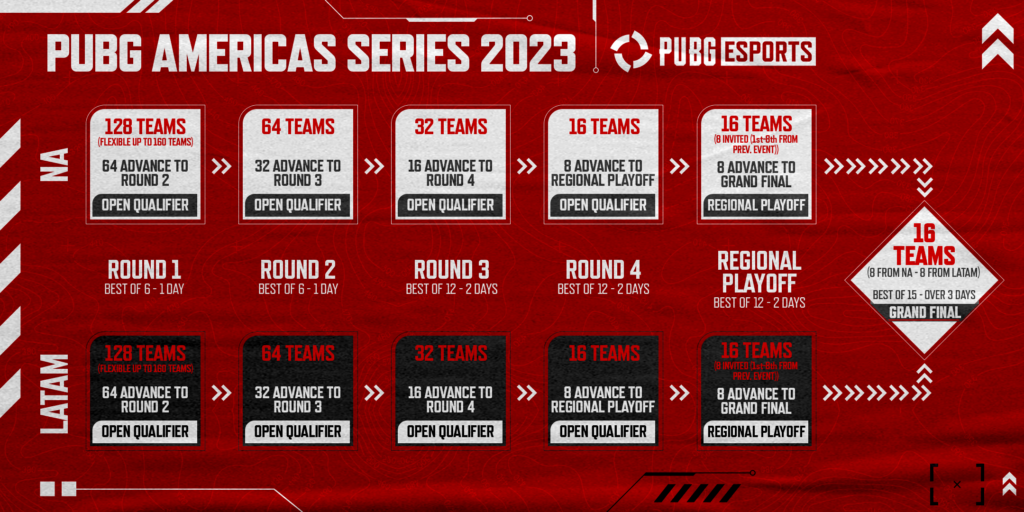 Rules to Note:
The full Rulebook can be found here, and all participants should read and understand the rules fully before participating. However, we wanted to highlight one rule to note – all invited teams to the PAS Phase 1 are required to maintain at least 50% of their Core Roster from the PCS7 Americas Grand Final.
Prize Pool:
The total Prize Pool will consist of $100,000+ and is broken down as follows: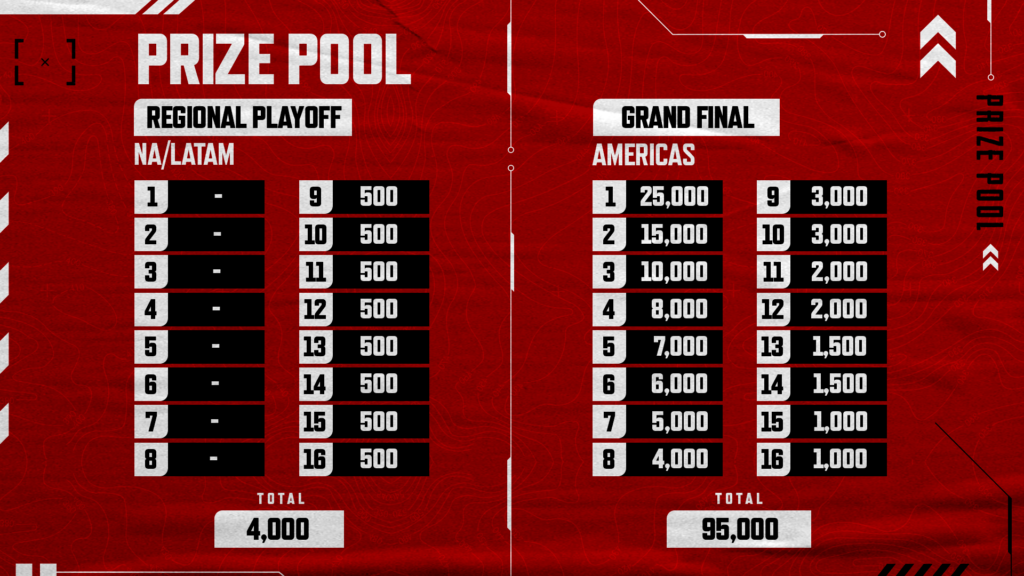 Return of PGC Qualification Points
Back for another year are the PGC Qualification Points! The system remains the same – secure a top 16 placement in any of the three major events, and you and your squad will earn PGC Qualification Points. The exact breakdown of points can be found below. Make note that the winner of PAS2 will automatically qualify for the 2023 PUBG Global Championship as the highest seeded Americas team!
Keep an eye out for an upcoming announcement outlining the full Path to PGC, including how many teams from the Americas will qualify for PGC 2023.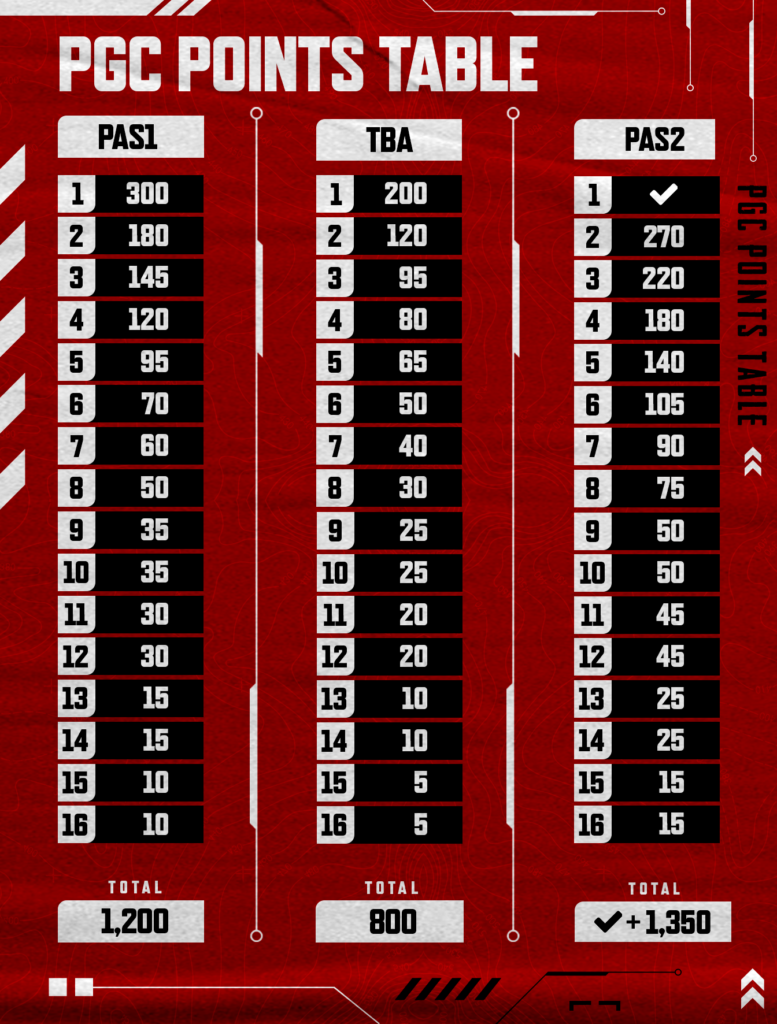 OCE
For our OCE players out there wondering what is happening in your region this year, OCE will continue to be included in the Asia Pacific region. All OCE event details will be announced as soon as they are finalized.
PUBG is proud to support some of the greatest fans and teams in esports, and we appreciate your continued dedication throughout the years. We can't wait to embark on another exciting season with you!
We'll have loads more details on the PUBG Americas Esports 2023 calendar in the coming weeks, so make sure you're following us on Twitter, Instagram, and TikTok for more news, updates, and content.