The Fastest Chicken Dinner Challenge
How have you been enjoying the new Intense Battle Royale mode? Are you keeping up with the fast pace of the new mode?
There's a saying.. 'Good Chicken Dinners come to those who act fast'.
How fast can you win the Chicken Dinner? To test your speed, we have set up a challenge that will reveal the fastest survivor among us: The Fastest Chicken Dinner Challenge.
Go engage in the Intense Battle Royale mode and capture and upload the moment you win the Chicken Dinner online. Those who are selected will earn a Chicken Dinner Spray and a Bronze G-COIN Box!
Read on for the full guide for the Fastest Chicken Dinner Challenge.
Challenge Guide
※ This event is available to both PC and Console platform users.
Take a screenshot or video of you winning a game in the Intense Battle Royale mode.

A screenshot of 'Winner Winner Chicken Dinner' screen or a video of you taking down the last enemy and winning the game with the result screen included
This event will be held only in the Intense Battle Royale mode.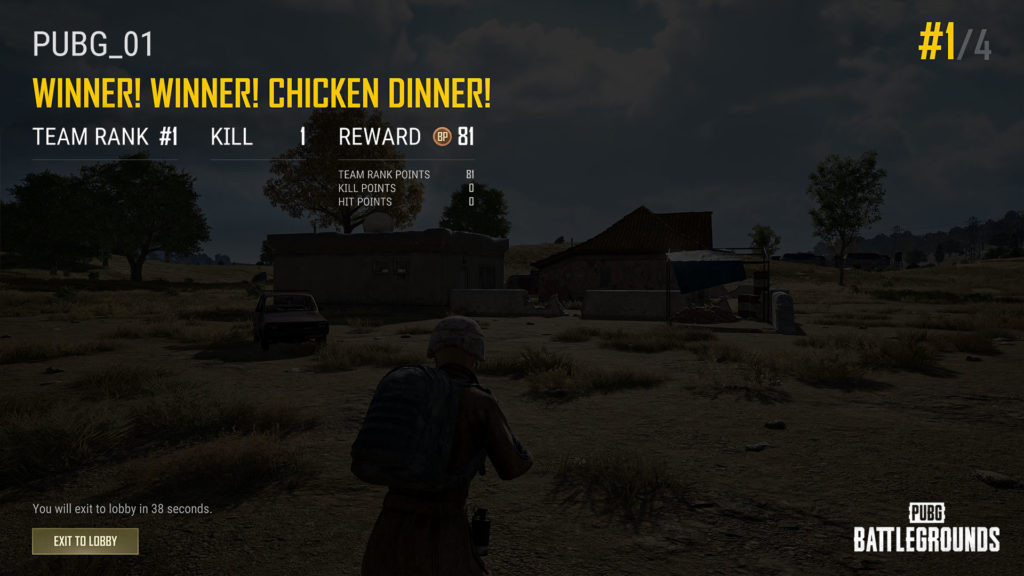 Upload the screenshot/video onto your social media account on one of the following platforms.

Twitter
Instagram
Facebook

Please include the following information along with your entry:

Your PUBG: BATTLEGROUNDS in-game nickname
Your game platform (ex. Steam, KAKAO, Epic Games Store, Xbox, PlayStation®, etc.)
Required hashtags

#FastestChickenDinner
#IntenseBattleRoyale
#IntenseBR_EU
Challenge Rewards
600 winners selected from the submitted entries around the world will receive the following rewards: Chicken DinnerSpray and a Bronze G-COIN Box.
Challenge Schedule
※ The following dates are subject to change. Updates will be given in the event of date changes.
Submission Period
The Fastest Chicken Dinner Challenge will be held during the following period – winners will only be selected from submissions made within the provided dates!
PST: January 29, 11 PM – February 13, 11 PM
UTC: January 30, 7 AM – February 14, 7 AM
CET: January 30, 8 AM – February 14, 8 AM
KST: January 30, 4 PM – February 14, 4 PM
Winners Announcement
PST: February 27, 11 PM
UTC: February 28, 7 AM
CET: February 28, 8 AM
KST: February 28, 4 PM
Important Notes
A single PUBG account may participate only once in this event.
Submissions showing games onlyin Intense Battle Royale mode will receive a chance to be one of the 600 winners.

Participants who submit screenshots/videos that are not their own will be immediately disqualified and have their rewards withdrawn even after reward delivery.

Only entries submitted through the provided platforms above (Facebook, Instagram, Twitter, etc.) will be counted.
Your social media post is required to be Public (everyone can see it) without any viewer restrictions during the event period and until rewards are delivered.
We advise you to NOT change your PUBG nickname after participating in this event as there may be difficulties during the process of delivering your reward(s).
Your screenshots/videos may be used in KRAFTON and/or PUBG: BATTLEGROUNDS' official channels.

Please hold on to your original files as we may ask for them later on!

The winners' screenshots/videos can be used by the company for promotional purposes, and the screenshots/videos may be transformed freely during the process.
The winners announcement on our official websites/community sites may include your social media link/account/content.
Additional personal information may be requested and collected from the winners for account verification and reward delivery.