Start Voting for Fan Art Contest: LAND!
Hello players!
We foremost wish to thank every participant for their time and effort to share their passion and creativity to our first Fan Art Contest of the year. We've carefully combed through every single one of your shoe design entries to finally announce the grand Five finalists today!
Now, during this phase of the contest, you'll be holding the power to vote for the shoe design you'd like to see spring to life in-game! We can't wait to see your character running through our maps with the shoes you've chosen!
Five Finalists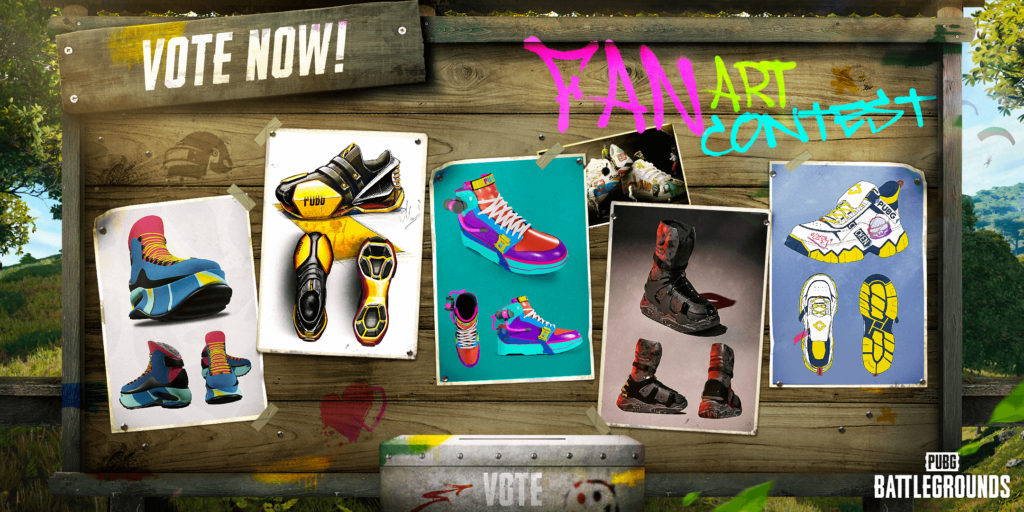 How to Vote
To vote for one of the five entries shown above, go here.
You can only vote once and for one entry only!
Contest Schedule
※ The following dates are subject to change. We will inform you in the event of schedule changes.
Public Voting Period (CONTEST Menu open period)

PDT: May 31, 12 AM – June 8, 12 AM
CEST: May 31, 9 AM – June 8, 9 AM
KST: May 31, 4 PM – June 8, 4 PM


Winner Announcement

PDT: June 10, 12 AM
CEST: June 10, 9 AM
KST: June 10, 4 PM
Contest Prize
The Five Finalists
Final Winner

5,000 USD

The winner is responsible for the payment of taxes and charges applicable when receiving the prize.