The World's Best Players to Battle in Seoul for Nations Cup
The first all-star event in PUBG Esports is coming to the spiritual home of competitive gaming as Nations Cup takes over Seoul, South Korea from August 9-11 in a tournament featuring the top battle royale players in the world fighting for national pride. Nations Cup will include a $500,000 prize pool and a chance for one team to claim the title of "best in the world."
Nations Cup teams will be made up of players selected by their peers or through other country-specific methods. Once top-tier players are assembled on a team, it's all about building chemistry and developing cohesion in time for a championship run at Nations Cup. At this tournament, talent won't be a question; it'll be which four-player team can compete together as a unit, secure enough Chicken Dinners, and take the crown for their team and country.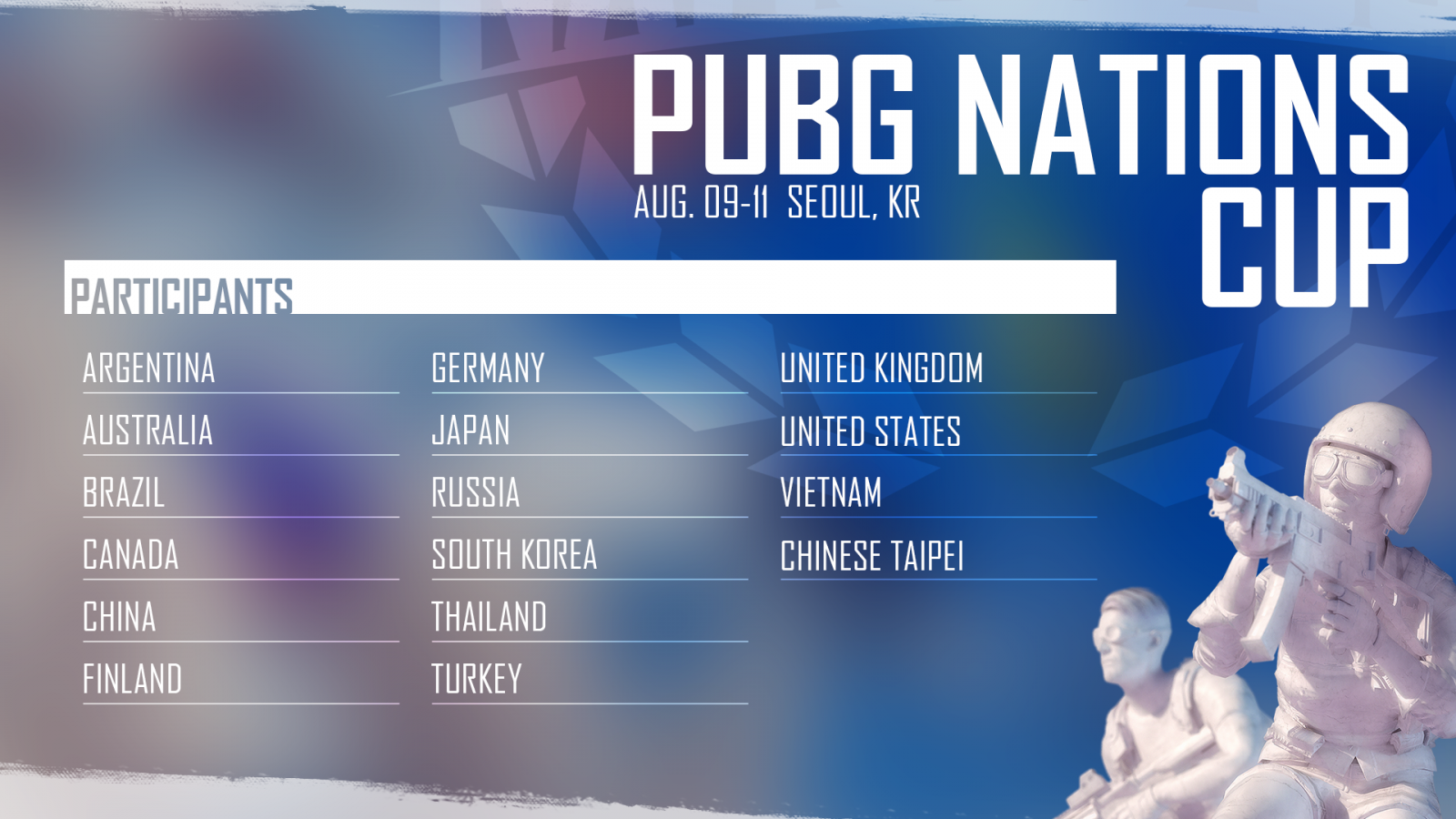 Nations Cup caps off a thrilling summer of PUBG Esports, coming just a few days after the MET Asia Series: PUBG Classic in Bangkok, which follows immediately after the GLL Grand Slam: PUBG Classic in Stockholm. Those two PUBG Classics will reward top teams with a hefty prize pool and will grant an additional slot at the PUBG Global Championship to the winner's home region. Nations Cup is also the last international event before the start of Phase 3 in PUBG Esports, the final stretch of the season when teams in every competitive region will be looking to earn enough points to qualify for the PUBG Global Championship. There's no rest for the talented in PUBG Esports. As a special event wedged in between weeks of regular season slugfests, Nations Cup is nothing less than a battle among the strongest players in the world.
Mark your calendars for August 9 and the start of Nations Cup. The tournament will be live on Twitch and thrilling the masses at the Jangchung Arena in Seoul.