Frosz is up to watch: PEL Phase 2 Week 3
Two weeks into its Phase 2, the PUBG Europe League has started to take shape and for now at least, it has become the playground of giants. Teams like FaZe Clan, Team Liquid, and G2 Esports are leading the rankings — but they are not invincible.
After the first quarter of the Phase, the standings are as follows: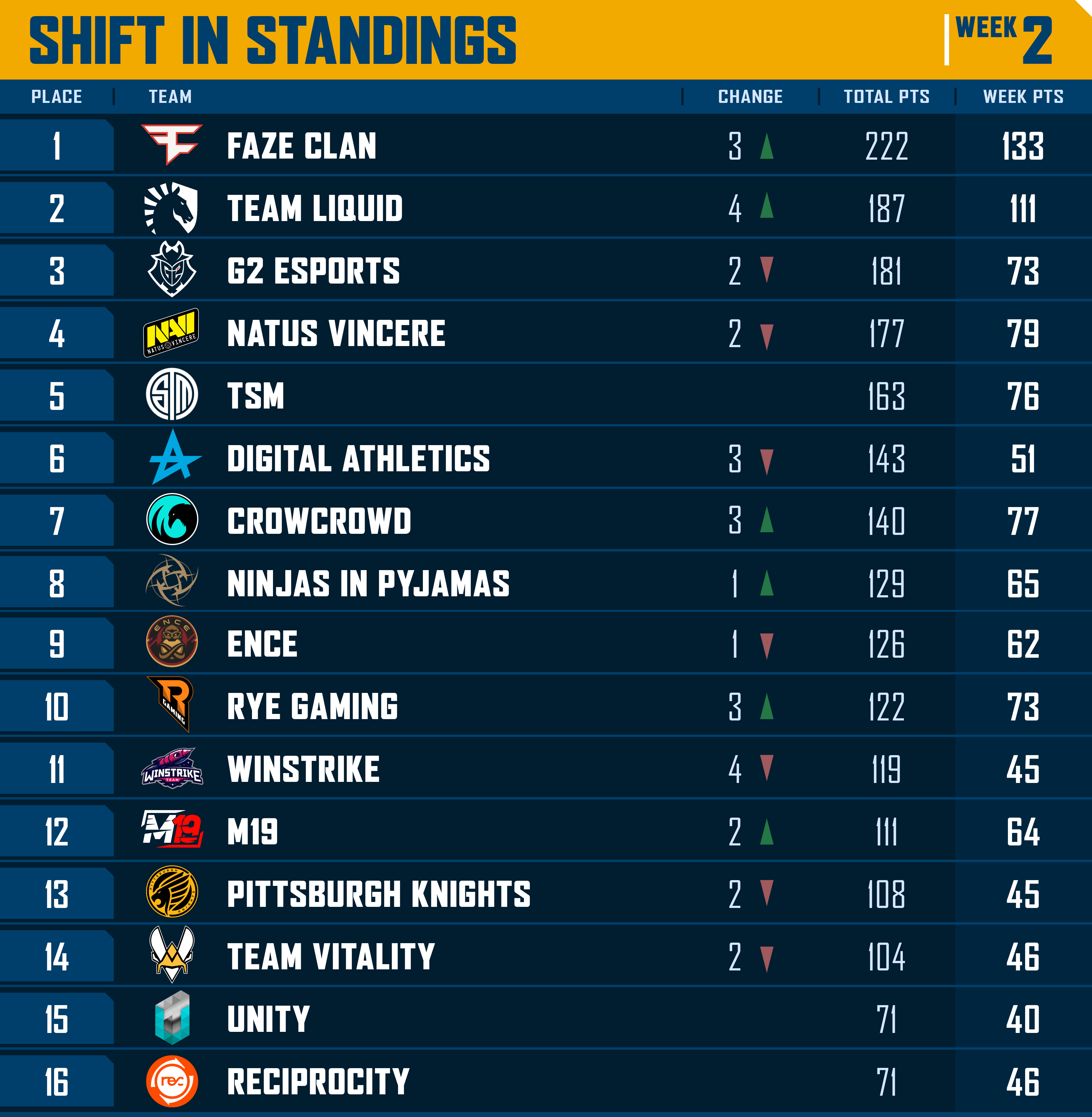 As we outlined previously, there are a lot of stories to follow coming into week 3 of PEL. To expand on the topic, we talked to veteran PUBG analyst Patrick "Frosz" Iu and he gave us his teams to watch for the next weekend.
* * *
TSM
Why?
Currently in 5th place, TSM have shown some really good results so far in PEL Phase 2, even if they are the only team in the top 5 that haven't gotten a match win so far. They keep getting high placements but their Miramar games are slightly better than their Erangel ones.
TSM tend to pick as many fights as possible, shooting at everyone and everything they see. This is what makes them fascinating to follow,
What to expect?
Hopefully TSM get their first chicken dinner, but even without it, I think we'll see them in the top 4 after week 3. They will gather a lot of kills as they usually do, and I'm expecting one, maybe two wins from them during this weekend.
---
Natus Vincere
Why?
NaVi have the second most wins in PEL Phase 2 with a total of five. They have switched to a more passive playstyle, trying to keep all four players up for the late game. There, they explode and go from one to 7-10 kills by the end. When they are playing with caution, they tend to play around the edge a lot until the end, but when they have to pull the trigger, you can see some crazy shots coming from all of them.
What to expect?
NaVi have been super consistent so far during this phase, winning games on both Miramar and Erangel. I think we can easily expect them to grab at least one chicken dinner on each map. If NaVi start going more aggressive during the early game as well, they might even get a 20-kill win this weekend.
---
FaZe Clan
Why?
Total domination from the ranking leaders during week 2 showed that the FaZe we once knew are coming back to dominate the scene! Their biggest weakness so far has been the rotations, but from the looks of it, they have more or less figured it out. They aren't racking up big kill counts but with four wins last weekend (and highest league total), they are definitely a team to look out for.
What to expect?
FaZe may be 1st in the league for now, but they still had a lot of 10-16th placements and hopefully that's what they're focusing on. Winning four out of 12 matches proves beyond doubt that they can close games, but taking care of the "bad" matches should be their priority. If they can solve this problem, they are going to be really scary in the coming weekend, which in turn means we'll get to see more kills!
BONUS: Team Liquid
Why?
Liquid is a team that always deliver, no matter what, and we haven't seen them fail in a long time. The team won three chicken dinners last week, but they will be hungry for more.
Liquid are the most stacked team in terms of mechanical skill, so it's almost always a pleasure to watch them play. Fail or succeed, Liquid are a guarantee for some excellent play on both individual and team level.
What to expect?
Despite some great games, Liquid couldn't climb to 1st place after the first two weekends, so they'll want to fix this and win the lobby after week 3. I think we are going to see them playing more as a unit than splitting up too much. They will still scatter in the early game but try to take the mid/late game as a full four-man squad.